Toontown is a new world to Disneyland and a lot of fun with lots of wacky and crazy stuff going on in this cartoon adventure land.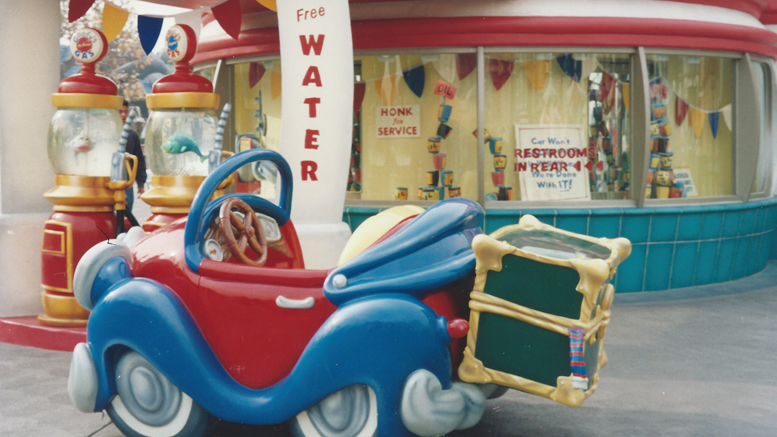 This world is zany at its best and everything is straight out of a cartoon, there are no straight edges and its full of colour and fun.
Be sure to try out Roger Rabbits Car Toon Spin which is a crazy ride on a cab through back alleys of Toontown – beware of those weasels, and the car is out of control..aaaarrr!!!!!
Ever wondered where Mickey Mouse and his friends live when they are in Tokyo…Toontown of course, visit his house and even meet the great Mouse…. Goofy, Donald and Minnie live close by, stop by to see if they are home. Have a go on the Jolly Trolley, this wobbly ride takes people on a ride along downtown Toontown, it's a lot of fun.
There's some great stuffed characters to buy in the many stores in this land. Make sure you stop by the Toontown delivery company, here there are lots of great gifts, or the Gag Factory, this place has some hilarious gifts and Disney items.
Toontown is a great place to get a quick snack, drink or ice-cream, try Dinghy Drinks, or Toon Pop, they have that sweet caramel flavoured popcorn… then drop down to Huey, Dewey and Louie's Good Times Cafe for something to wash it down,  or maybe a Mickey shaped Pizza….yummy!   Mickey's trailer has the best spring rolls and Goofy, well his trailer sells a good selection of cold drinks.
Tokyo Disneyland, all its attractions and characters are part of the Walt Disney Corporation. For more information please visit the official home page http://www.tokyodisneyresort.co.jp/