The American Waterfront brings back the grand old days of America in the early 1900's. The focal point of this area is the monstrous classic cruise ship, the S.S. Columbia which is home to a beautiful bar and quality table service restaurant. The beauty of the interior of this liner is not to be missed.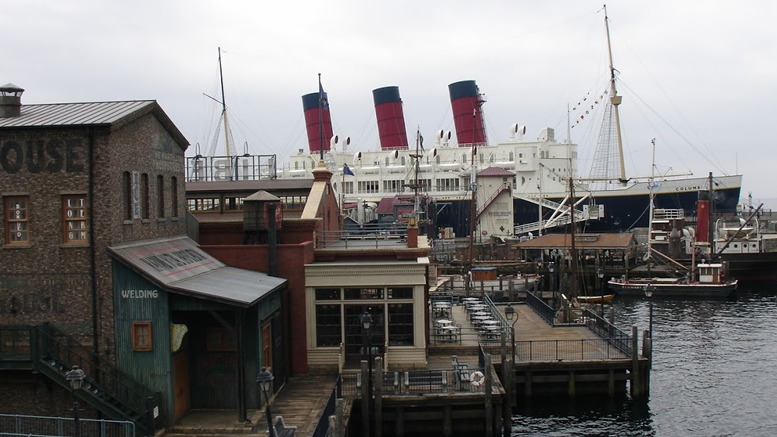 The S.S. Columbia's dock is home to some magical performances. There are regular stage shows where you can see your favourite characters, Mickey, Minnie, Donald, Goofy and the gang in a song and dance spectacular.
The biggest attraction in the area is about to open – the Tower of Terror, This attraction is one of the favourite attractions from Disney Studio's in Florida and promises to be a hit here in Tokyo Disney Sea.  Unsuspecting visitors will be dropped thirteen floors in a runaway lift.. Its an amazing ride, and the DisneySea gothic tower promises to be fantastic.
There's plenty of shopping to be had in the American Waterfront precinct, with MCDucks Department Store a great place for characters, souvenirs and apparel. A novel shopping experience is Steamboat Mickey's here you can pick up a historic and nostalgic character or gift including some lovely black and white stuffed characters.
The New York Deli offers great food, with Dill Pickles high on the menu, there's the Sakura Restaurant for some Japanese cuisine or if you are a bit hungry try the Sailing Day Buffet.
Around the back of the American Waterfront is a recreation of Cape Cod, here complete with jettys and light house is a quaint little village, here there's a live show at Donald's Boat Builders, and some great gift shops like the Cape Cod Cookoff and High Tide Treats.  The area has a great sweet shop called Aunt Peg's Village store and don't miss Harbourside Souvenirs.
American Waterfront has a few historic vehicle rides and a station for the Disney Sea Transit Steamer and Disney Sea Electric Railway which takes visitors on an elevated railway
DisneySea, all its attractions and characters are part of the Walt Disney Corporation. For more information please visit the official home page http://www.tokyodisneyresort.co.jp/