Disneysea's Arabian Coast is a magical land bringing together legends of pirates, Sinbad, genies and the far east. The Arabian detail in this area is quite spectacular, the whole area is beautifully designed to resemble a somewhat whimsical Arabian world.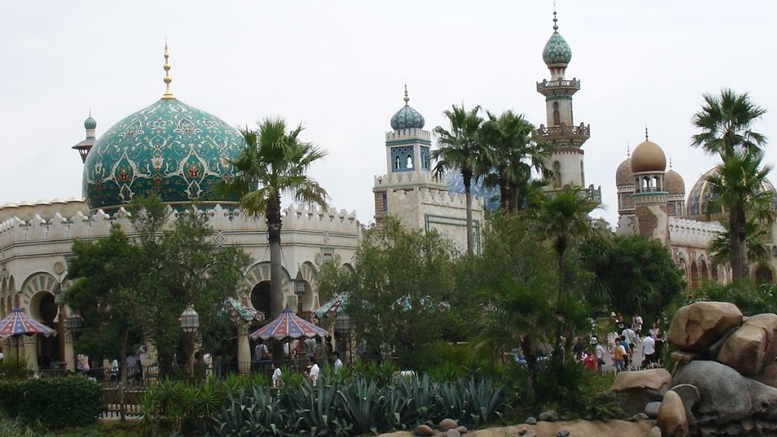 The precinct has some great attractions including Sinbad's Seven Voyages. Sinbad is a slow moving boat ride experience where you travel through unexplored seas and visit strange lands. There are lots of animontronic robotic figures, camels, genies and Arabian people to entertain, combined with catchy music this is a fun attraction for all ages.
The Magic Lamp Theatre is a combination of live action, magic, music and film all bringing the legend of one of Disney's magnificent animated movies, Aladdin to life. All the favourites are there including Aladdin, the Genie, the Princess and Abu the rascal monkey. This attraction has a Fast Pass option where pre timed tickets can be obtained before hand at special times, this can save a considerable time waiting in line to enter this popular attraction.
The Caravan Carousel is a merry-go-round with a difference here you ride stately camels, elephants and griffens or even the Genie himself on a magical 2 level ride.
There are plenty of shopping and food to enjoy in this world, The Agrabar Marketplace is a scene straight out of Aladdin, it is truly beautiful with mosaics, palms and Arabian domes. Here you can by a huge array of Disney characters. Casbah Food Court offers some tasty Arabian inspired treats including curry and chicken, while the Sultan's Oasis offers fresh fruit and cool juice drinks.
DisneySea, all its attractions and characters are part of the Walt Disney Corporation. For more information please visit the official home page www.tokyodisneyresort.co.jp