The Lost River Delta is a world of adventure, hidden behind a heavily planted jungle awaits mystery and adventure which is certain enthral everyone who enters.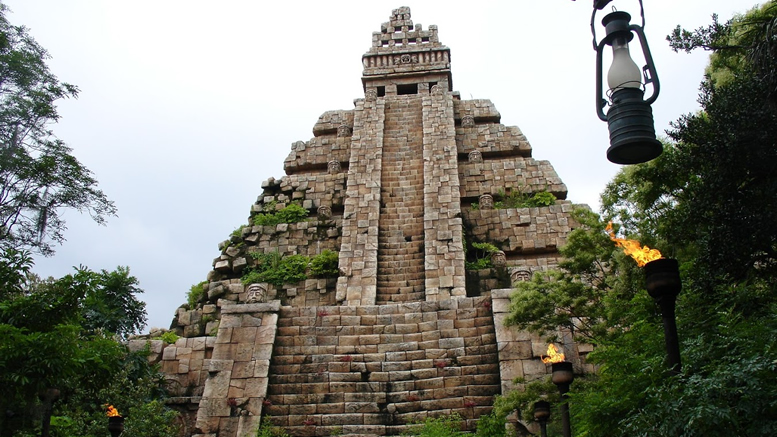 The biggest attraction here is the amazing Indiana Jones and the Temple of the Crystal Skull. This ride is based on the Indiana Jones films and very similar to the ride in the Anaheim California Disney park only better, it is bigger and has much more detail and even more exciting.
Even the long queue to the attraction is an attraction in its self, You walk into a sandstone temple with so much detail its amazing to see how much imagination and expense has been put into developing this ride. The path winds through narrow corridors of sandstone and vines with artefacts, snakes and nasty bugs, there's some pretty creepy jungle noises too. Finally you reach the boarding point where you hop aboard a large 4 wheel drive vehicle which then heads off on a bumpy roller coaster like track through the structure looking for the fountain of youth. There are spiders, snakes, bugs, skeletons all moving and lots of supernatural stuff, you finally come to a dead end track with a giant boulder coming at you full speed, like the movie, Indiana Jones in Tarzan style jumps in front of you and your car narrowly misses collision with the monster rock. It is Disney's most spectacular ride a must for every visitor and well worth the wait.  This attraction has the fast Pass system running so get in early and you should be able to book a time and avoid a lengthy wait.
The newest attraction in the Lost River Delta is the Ragin Spirts, this ancient journey is a roller coaster ride with a 360 degree loop, it is very similar to the Indiana Jones rollercoaster in the Paris Disney theme park. Here your dare the wrath of two ancient gods and speed through a amazing archaeological excavation with running water and fire… It's not for the faint hearted but great fun. This attraction also has a fast past ticket system.
The River delta has some great food, there's the Yacatan Base Camp Grill where you can get some great bbq specialities, the Lost River Cookhose where there's some tasty Yucatan delights and Expedition Eats where there's some tasty Mexican food and cold beer. Don't forget to go down to the Lost River outfitters for some great themed apparel or get some Disney themed stuffed toys at the Lookout Traders.
If you would like to catch a fun show, stop by at Mystic Rhythms where there is a huge rainforest hangar which holds theatrical performances from far away civilisations in a celebration of rhythm and dance.
The Lost River Delta has a sea station to catch the DisneySea Transit Steamer across to the Mediterranean Harbour, its nice boat ride to relax and rest those weary legs.
DisneySea, all its attractions and characters are part of the Walt Disney Corporation. For more information please visit the official home page www.tokyodisneyresort.co.jp