Mermaid lagoon is probably the most beautiful and whimsical of all the Disneysea worlds. Much of the attraction is enclosed, or should I say under the sea in a magical underwater setting.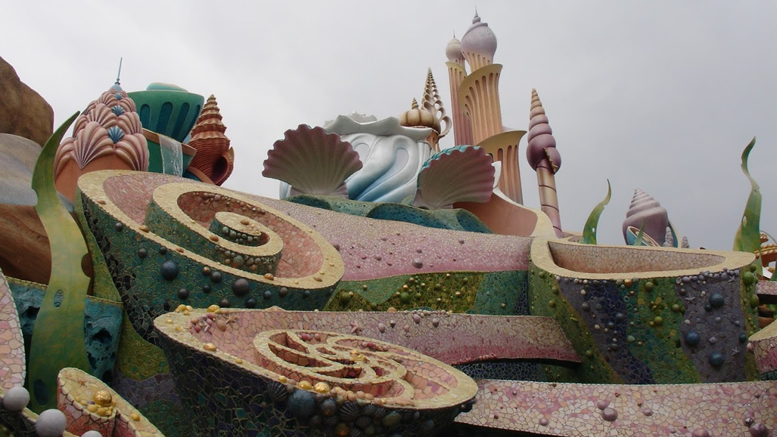 The outside of the attraction is a giant coral reef called Triton's Kingdom there are a colourful array of coral, sea shells and other sea creatures in beautiful pastel colours, but as the twilight falls the area becomes the most magical scene with diamond encrusted sparkles and beautiful lighting making this area an amazing sight.
Inside the Kingdom is a treat for young and old, it is just like walking into an underwater garden with kelp and other sea life hanging from the walls, green and turquoise lighting and sounds of waves crushing.
There are some really fun rides in the Kingdom, mainly aimed for the young, but the 'big kid's have just as much fun. Jumpin Jellyfish is a favourite, where people ride jellyfish in a ride that bobs them up and down from the roof to the floor. Flounders Flying fish Coaster is a small child friendly coaster, where children can ride Flounder and his fishy friends from the Little Mermaid film. There is a Blowfish ride where people can ride aboard a puffer fish and a sand crab ride called Scuttle Scooters.
One of the fun attractions in the Kingdom is a the huge sleepy whale shop, where you enter the mouth of a huge whale full of some fantastic Little Mermaid merchandise, while outside the Kingdom is Arials Playground, an area loved by children there is the Whirlpool a swirling and twirling kelp cup ride similar to the tea cup ride in Magic Kingdom and of course the land's favourite, Ariel's Greeting Grotto where children can meet their favourite character and have their photo taken in the picturesque cave.
DisneySea, all its attractions and characters are part of the Walt Disney Corporation. For more information please visit the official home page www.tokyodisneyresort.co.jp