When you think of theme parks, you usually think of Mickey and his friends or some high thrill roller coaster. However, in Japan there is another type of theme park, the food theme park.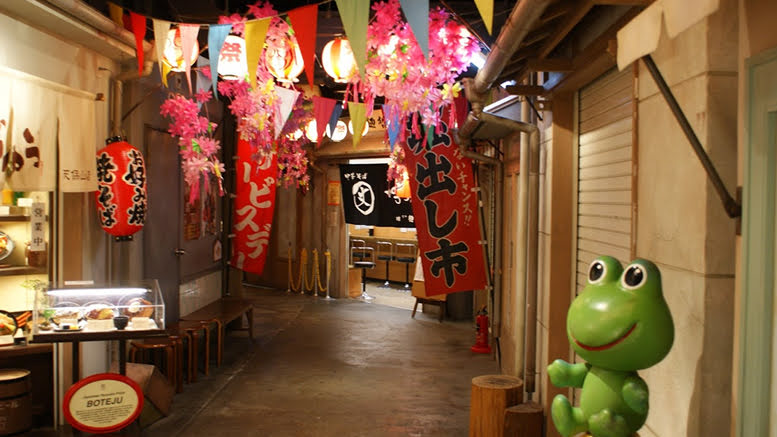 Food theme parks or food museums, as they are sometimes called, are usually exotically decked out dining experiences. Here, you can taste the theme ingredient, learn a little history of the cuisine and sometimes even see how it is made.
Ramen or noodle museums are quite popular, one museum located in Yokohama is called the Shin Yokohama Raumen Museum, it is a must see for anyone visiting this fascinating port city. The multi levelled museum is themed to a Tokyo setting in the early 1950′s complete with alleys, ramen stalls and memorabilia. There are more than 10 cafes and restaurants selling various forms of noodles with plenty of people queuing up to taste the delicious treat. The museum also has several fascinating displays on how ramen is made, and the important place noodles has played in Japanese history and culture throughout the years. There is also a gift shop where you can purchase an indescribable array of ramen and souvenirs.
Yokohama is also home to the Yokohama Daisekai, this theme park is not far from the Motomachi Chukagai Station in China Town. Daisekai features a Chinese inspired menu in its large food court, and is also home to a Chinese gift shop and even a 3D theatre.
For meat lovers, go no further than the Meatrea Meat Theme Park in the outer Tokyo suburb of Minami-Osawa. Here, you will find everything meat including such delicacies made from beef, chicken, pork and other meat products. One favourite on the menu is pork with ice cream, Yum!.
The massive Universal City complex next to Osaka's Universal Studios is home to another immensely popular food museum. This time celebrating Osaka's favourite delicacy, octopus balls or takoyaki as they are known. This exciting theme park is decked out with a cute little character based on the takoyaki and plenty of cafes and takoyaki stalls. The gift shop sells some fabulous merchandise and of course frozen Takoyaki to enjoy later.
Ikeburkuro is home to the Gyozo Stadium, where they serve delicious gyoza. The stadium is part of the Sunshine City complex which houses quite a few food museums. The Gyoza Stadium has a 1950′s theme and plenty of tasty gyozas.
The museums or theme parks don't only feature savoury items, there are plenty of sweet theme parks too. Ice Cream City inside the Namjatown at Sunshine City has more choices for ice cream than you can imagine. Don't eat too many icy treats because the Tokyo Dessert Republic is only a few doors away. Other sweet theme parks include chocolate, pancakes, waffles to name a few.
Also on Happy Jappy
Shin Yokohama Raumen Museum