Gyudon is fast food Japanese style, translated gyudon means cow bowl, and that's sort of what gyudon is, strips of beef served in a bowl. Often served with a salad and miso soup, gyudon is popular all over Japan. Gyudon cafes are generally small and consist of a long counter that you sit at in front of the waiter and his preparation area.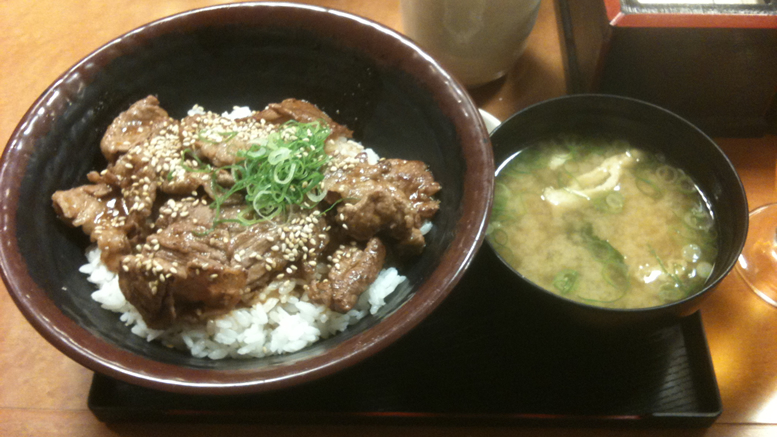 A variety of simple choices are available at the gyudon shop, and they are always fast and cheap. As gyudon cafes as they are predominantly used by the Japanese, the language used on the menus is in Japanese. Many of the chain stores will have photos with the menu, so making a choice for any non Japanese speaking person is not too hard.
Some gyudon cafes use a vending machine where you pay for, choose your meal and collect a ticket, you then enter the shop take a seat and give the waiter your ticket, chances are that your meal will be being prepared. Sometimes a small salad or miso soup will be included with your meal, it will be served to you almost the instant you sit down.
The vending ticket restaurant idea is used by many and the restaurant layout is always a similar model. Some restaurants exclusively serve gyudon, Japanese curry, ramen noodles or a combination of all three.
One slight variation of the gyudon cafe format is the Pepper Lunch franchise. Pepper lunch serves sizzling plates of meat in front of you so you can cook it to your liking. Combined with their special sauces, the steak dish is extremely tasty and fast.
Gyudon is popular with Japanese youth and business men, as it's a quick and cheap and meal that always tastes terrific.
Websites of the most popular gyudon stores (Japanese only)
www.yoshinoya.com
www.sukiya.jp
www.matsuyafoods.co.jp
www.pepperlunch.com