You might not expect to find curry on a Japanese menu, but it is quite common, extremely popular and a relatively cheap dish throughout Japan.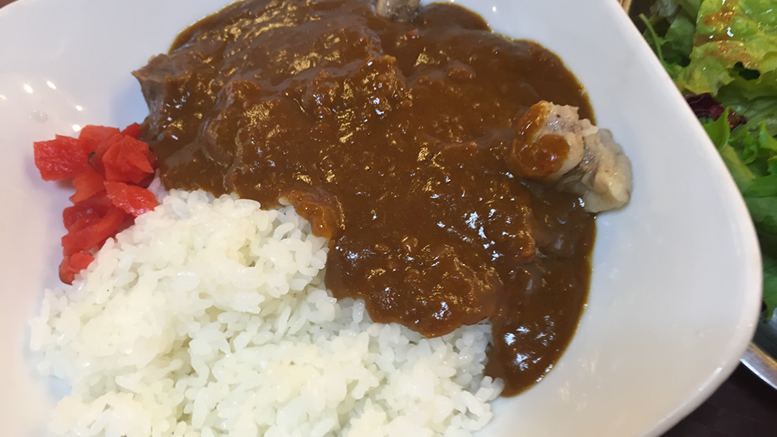 It is said that the first Japanese person to try curry was a 16 year old member of the Aizu Byakkotai warriors called Kenjiro Yamakawa. He was offered the spicy dish on board a ship bound for the United States in 1871. It wasn't until some years later that curry was introduced into the Japan by the English, who discovered the wonders of curry while they were administering India in the late 1800′s.
The first Japanese style curries began to appear around 1912 with the first commercial curries entering the market by the early 1920′s. Minejiro Yamazaki, who founded the S&B Brand produced the first Japanese style curry for sale which it still sells today.
The Japanese version of the dish is not as exotic or as complex as many of the Indian style curries and it is usually not as hot. In many cases it is more of mildly spicy and sweetish gravy which accompanies the likes of rice and small amounts of meats or vegetables.
Japanese curry is remarkably easy and quick to make at home and in particular both the S&B and Golden Curry Brand can be found most oriental sections of supermarkets around the world. Meat and vegetables are cooked browned then some water is added followed by the curry roux blocks which look like blocks of waxy chocolate. The water quickly breaks up the curry to form a rich gravy, and once the dish has been brought up to the boil it is ready to eat.
Many fast food and vending machine restaurants like Yoshinoya, Sukiya and Matsuya, as well as countless large and small restaurants sell curry in an array of variations.
Curry is one of Japan's most popular dishes and is regarded as a comfort food. Usually the meat is beef, but pork and chicken is also very popular. Vegetables usually include onions, carrots and potatoes and some of the more Japanese style vegetables are also popular additions. The curry is normally served as a rich gravy with the meat and vegetables kept to a minimum and is almost always served over white rice called kare raisu and is often garnished with a few fukujinzuki or rakkyo pickles.
Other items, including crumbed meat cutlets or hamburgers, are also common instead of the sliced meats. Kare Omurice the delicious rice filled omlette is another great way to enjoy Japansese Curry and there are also several noodle based dishes including kare udon, a curry covering udon noodles.
One interesting item worth trying is the Curry Pan, which is essentially hollowed out bread filled with the rich curry gravy and makes a great snack and introduction into Japanese curry.