Japanese love their snack foods but unlike much of the western world chocolate is not one of the major sellers, other than Pocky which is immensely popular, it's a long straw like pretzel with chocolate or other coatings including different flavours and nuts there is even a few savoury flavours including pumpkin, pizza and sweet potato, and there are special seasonal varieties produced. It is estimated that Glico the manufacturers sell over 30 billion yen of Pocky in Japan each year.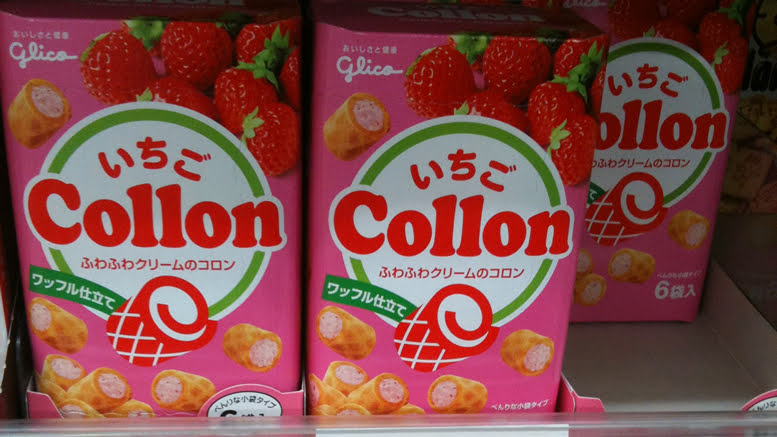 Most Japanese candy has cute little animated characters on the wrapping, and some have some pretty cute English names, favourites include Hello Panda, which is a biscuit based treat stuffed with sweet goo, then there's Watta which is a chewing gum, and even a product with the unfortunate name of Chocolate Collon.
Chewing gums are quite popular, and they don't just stop at the mint or fruit flavour. Coffee flavour is extremely popular, and what would chewing gum be without various flavours from the ocean. There are quite a few seafood flavours including octopus, shrimp and seaweed.
Potato crisp, corn chips and rice crackers are also quite popular, and they don't just have the normal bbq, salt and vinegar and chicken flavours that we have in the west. Japan has all sorts of delightful flavours complete with their own distinctive smells. How does octopus flavour corn tubes sound, or sea cucumber chips, seaweed and teriyaki crackers, or kyabetsu taro? The latter are corn balls with nori and brown sauce. They even have a cabbage taro, The frog wearing the sailor's suit on the package is enough to make you want to buy it, but don't expect any cabbage in the product as it's made of corn.
Don Tacos are one of the popular corn tortilla chips, there's hamburger sauce flavour, super hot chili and seafood flavour. If the super hot chili variety isn't hot enough for you, try Bokun Habanero potato chips, they have an evil chili pepper character on the cover, and if his evil grin is anything to go by these snacks will burn your stomach out. They even make a slightly milder version called Bebita for the kids, and have Tyrant Bebinero's little sister chili on the package. The habanero pepper is one of the world's hottest chilies.
There are quite a lot of seafood based snacks containing squid rings, shrimp or octopus rings etc. Some of the favourites are the fried squid and vinegar treat known as Yotchan Ika. Ebi Senbei is a type of squid cracker, and if you prefer kelp with bonito flakes and vinegar than Miyako Kombu may be up your alley.