New York has its hot dog, London has its bangers and mash, Berlin has its Currywurst and Osaka has its Takoyaki. Takoyaki is found all over Japan but Osaka is the home of the Octopus Ball.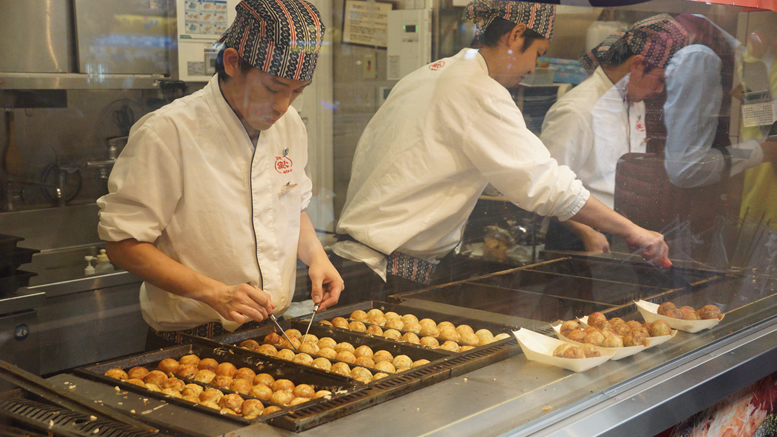 Takoyaki, or fried octopus ball dumplings are by far the most popular snack in Osaka and are absolutely everywhere. Takoyaki is found in street stands, restaurants, markets and even supermarkets. There is even a Takoyaki museum with a number of Takoyaki restaurants and gift shops at the Universal City Walk, next to Universal Studios. Here you can not only enjoy freshly cooked Takoyaki, but also buy refrigerated and frozen items to eat later. There are also just about every conceivable Takoyaki souvenir from stuffed toy octopus balls, baking pans and a wide range of Takoyaki themed knick-knacks and trinkets.
The balls are about golf ball sized and are made using a wheat based dumpling batter with some chopped onions, pickled ginger and diced octopus. They are then poured into a heavy steel baking tray with half spherical moulds. Once the mixture starts to cook it is quickly turned with a pointy chopstick and rolled to create a ball and cooked right through. The finished item has a golden crispy skin with soft white inners. Once cooked it is served with lavish toppings of okonomiyaki sauce, ponzu, mayonnaise, green laver, and katsuobushi fish shavings. Some restaurants do variations on the recipe adding different vegetables and even adding different kinds of seafood like squid and prawn. The dish is delicious hot or cold.
The origins of the dish are believed to date back to 1935 when a street vendor named Endo Tomekichi came up with the recipe for this tasty treat. Endo had great success with the balls and opened a shop in the Nishinari Ward of Osaka known as Aizuya.