Yakitori is one of the tastiest and cheapest meals in Japan, it is succulent pieces of chicken meat served on bamboo skewers, marinated in BBQ sauce and grilled over hot charcoals. Many of the restaurants serve this tasty dish along with cold beer. You will find many yakitori restaurants are just small stands, set up around popular train stations. Many yakitori stands will have a sign out the front with the Tori Bird character and most Japanese style bars known as Izakaya, will also serve Yakatori. Izakayas will always have some red paper lanterns out the front, but the fragrance of the barbecuing Yakitori will be a real give away.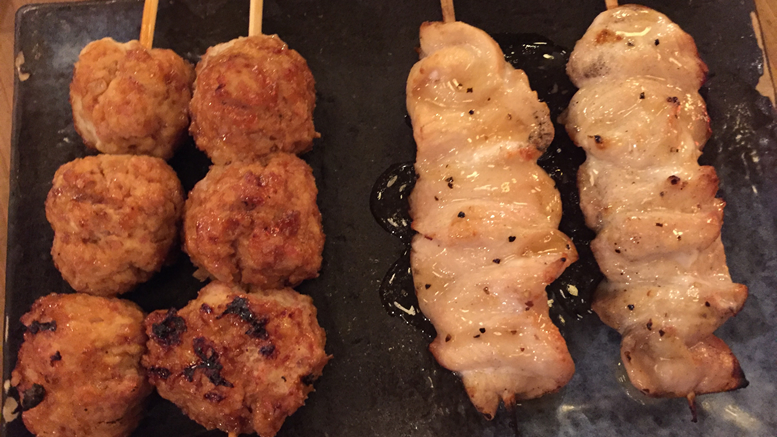 Most yakitori stands are fairly basic, you might sit on a drink crate or on a stool, and many of the small stalls have only seating that is on the street. However, it is the fatastic food and not the decor that matters most. There are larger and fancier places, but it doesn't make the food any better or the people any friendlier. In many cases, the fancy restaurants don't use the special charcoal grills that are responsible for a large part of the delicious yakitori flavour.
A yakitori and a beer or two are a favourite for people leaving work and having a quick bite or refreshment before catching the train home. One of the best spots to find a yakitori restaurant is in Shinjuku along Shomben Yokocho, otherwise known as "Piss Alley", this tiny street features plenty of yakitori shops for you to choose from.
These places usually sell more than just chicken yakitori, many sell other cuts and types of meat on skewers, whether it be beef pieces, seafood or one of the more unusual organs of the animal. Most also offer vegetarian options, like mushroom, peppers or tofu. In most cases, they are dipped in the soy based tare sauce before being put on the hot coals to cook. Jidori is also popular, it is essentially meat from a free range chicken. Jidori has more flavour than the regular chicken but it is a little tougher and darker.
Many people also enjoy finishing off their meal with a bowl of chazuke. This is a soupy mixture of tea over rice, sometimes a topping of Japanese pickles, nori seaweed, wasabi or pollock roe is added to introduce a savoury flavour to the soup.
Some menu items that you might find at a Yakitori stand include
* yakitori — grilled, skewered chicken pieces
* aigamo — duck
* hasami — alternating pieces of chicken and leek
* hatsu — hearts
* hone tsuki — bones included
* tori kimo yaki — chicken livers and other giblets
* momo(yaki) — chicken legs
* motsu — giblets
* nankotsu — chicken pieces with bone
* shoniku — boneless meat with skin
* sunagimo — gizzards
* suzume — sparrow (or young chicken)
* tan — beef tongue
* tebasaki — chicken wings
* tsukune — chicken meatballs
* ginnan — ginkgo nuts
* negi — leek
* piman — green pepper
* shiitake — Japanese mushrooms
* tamanegi — onion
* tori no kara-age — deep-fried chicken