In all centres of Japan, especially around major railways, there is no shortage of taxis when you need one. The taxi is usually a Toyota Crown Comfort or sometimes even a Nissan Cedric.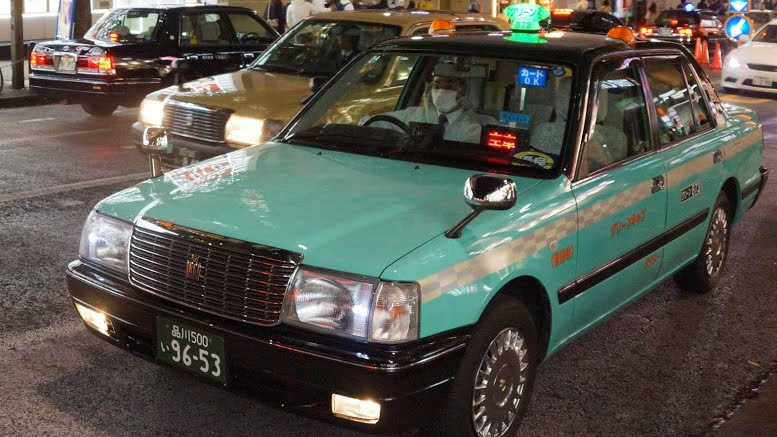 You would think that Japan would use the latest and greatest cars with every gadget possible as their taxi fleet, but this is not the case. The Crown Comfort is based on an old model Toyota Crown that was first launched in 1995 while the Nissan Cedric was first launched in 1987. These cars are still made new with only a slight facelift since their launch. Both cars look  remarkably like the early 1980's models they replaced. The plain and boxy styling and a RWD layout is favoured by the Japanese taxi driver, so the manufacturers don't want to mess with something that works so well. The Crown Comfort is by far the more popular of the two cars and is also exported to Hong Kong for their taxi market. Nissan also made a taxi called the Crew from 1993 to 2009. Similar to the Cedric and the Crown, sometimes its hard to pick who made which taxi from a distance.
Most taxis will hold 4 passengers (3 and driver) and to tell if a taxi is vacant you need to look for the red plate on the dash board and the roof. Strangely when the car is booked, the plate is green. So red is yes vacant, and green is no booked – that's Japan for you!
There are a couple of unique things about the Japanese taxi, the rear passenger door is electronically opened by the driver, and there's no need to close it either as the driver also has a control to close it and open it again when you get to your destination.
The Crown, Crew and Cedric may not be the most luxurious sedan, but they have been specially designed to suit being a taxi. The driver is often exceedingly gracious and is always dressed in a extremely neat shirt and tie. He will usually also wear a hat with white gloves. The taxi seats are also unique; fitted with white linen seat covers filled with lace and embroidery, they make the Japanese taxi experience all that more special.
Unlike most cities in the world, tipping is a big no no, so you should only pay the price on the meter as taxi drivers are not allowed to accept any more. All service charges are built into the price of the fair.
Japan's street naming and numbering system is extremely difficult for those who don't understand it, and as most taxi drivers do not speak English, it is advisable to have someone from your hotel or another Japanese speaking person help you with your destination, even if it is just written on a piece of paper. Maps and English spelling can sometimes only help to confuse the situation.
Like most cities, the taxi is one of the most expensive forms of public transport with fares typically starting around 600-700 Yen for the first two kilometres and increasing by roughly 100 Yen for every additional 500 meters. The cost does also rise when the taxi is not moving for a prolonged time. Late in the evening, rates are raised by 20-30 percent.