Kobe's Chinatown or Nankin-machi as it is known is a bustling and exciting precinct right in the city which no visitor to Kobe should miss, and is regarded as one of Japans best.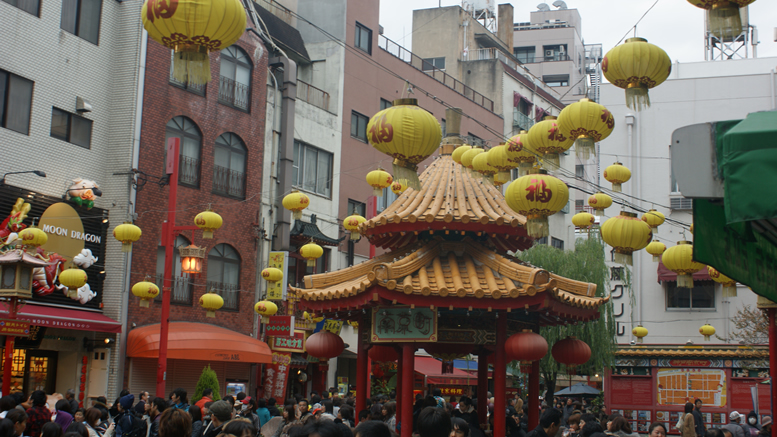 The fully themed area is home to over 100 restaurants, dozens of street food stalls, mahjong clubs, a Chinese temple and an amazing array of shopping, including groceries, clothing, home wares and novelty items.
Like many of the other Chinatowns in Japan, the Chinese, mostly from Nanjing came to the port cities to trade their goods. Many later settled and their community grew creating what we now know as Chinatown.
Located in the Motomachi section of the city China town stretches a few blocks in every direction. The streets are decorated with Chinese lanterns and there are three traditional Chinese entrance gates, including the beautiful Changan Gate. Lots of colour, lots of atmosphere and lots of tasty smells, especially from the beautiful steamed dumplings being sold by the street vendors, and around lunch time especially on the weekends the crowds can be enormous. The street food is cheap, although at times unidentifiable but best of all delicious.
At the intersection of the north-south and east-west is a beautiful pavilion which features 12 stone carvings representing the Chinese Zodiac. The area although usually very busy is a good meeting place.
Much of the street vendors started business after the Hanshin Awaji Earthquake when the area was severely damaged. They set up small shops outside their buildings to continue trading. This became popular and they remained.
The food is excellent and the seafood is an absolute specialty being fresh and tasty. People will wait for hours in lines just to get a chance to eat at their favourite restaurant.
Kobe's Chinatown is home to several huge events during the year, with Chinese New Year or Shunsetu Sai, being the biggest, complete with fireworks and dancing lions and dragons. This event is spectacular and attracts thousands everyday during the festival.