The Kobe Maritime Museum is located in Meriken Park on Kobe's waterfront next to the Kobe Port Tower and the Earth Quake Memorial Park.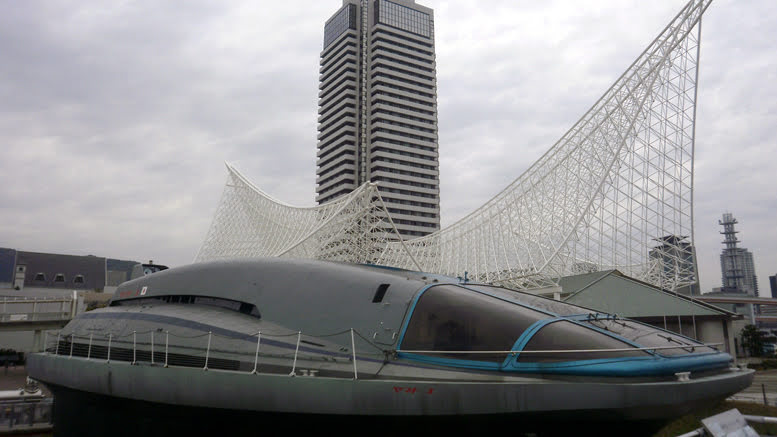 It opened in 1987 as to commemorate the 120th anniversary of the opening of Kobe's port, one of Japan's busiest ports. Kobe moves some 2 million containers a year and before the devastating Great Hanshin Earthquake in 1995, the port was Japan's busiest. The earthquake seriously damaged the ports facilities and caused the port to close for many months during the repair.
Housed in a spectacular building with a huge pipe sculpture representing a ship, the museum is regarded as the world's largest maritime museum and has a huge array of exhibitions to educate and entertain.
Two of the most interesting exhibits are outside the museum and can be viewed by visitors to Meriken Park. They are two futuristic watercraft, including "Yamato One" which is a superconductive electromagnetic powered craft, that looks like something out of a science fiction movie and very impressive.
Inside the museum there are several themes including the ocean, the ship and the port. Although most of the displays are in Japanese it is not hard for a non Japanese speaking visitor to comprehend most of the displays and really enjoy the centre.
The museum focuses on the story of the port, its history and its importance to Kobe. There are many interesting vessels and plenty of very interesting nautical artifacts. The museum also features a virtual submarine ride which takes visitors on a journey to a virtual biosphere on the ocean floor, and is a favorite especially with children.
The Kobe Maritime Museum located centrally in Meriken Park, the park is about a 5 minute walk south of Motomachi Station or you could get off at Kobe Station and access Meriken Park via a walk through the Harborland area and Mosaic Shopping centres.
Merikan Park and Harborland Map

View Merikan Park in a larger map
Also on Happy Jappy
Meriken Park
Kobe Port Tower
Official Website
http://www.kobe-meriken.or.jp/maritime-museum/