The Kobe Port Tower is one of the most striking structures on the Kobe skyline. Standing at 108 metres and painted in a burnt orange colour the tower is a very interesting piece of architecture and unlike many of Japan's other towers its design is not inspired by France's Eiffel Tower. Built as a hyperboloid structure and covered in a pipe lattice like cover the tower is quiet spectacular day or night.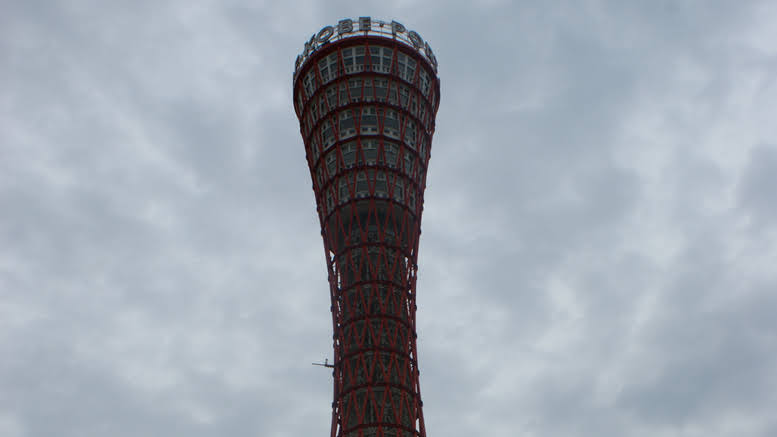 There is an observation deck in the tower where visitors can see the spectacular Kobe waterfront and city. Kobe has one of Japan's busiest ports and there are always some interesting activities on the water to see. The view on a clear day even stretches to the airport which is located out in Osaka Bay and the incredible Akashi Kaikyo Bridge and the rugged mountains behind the city.
The Kobe Port Tower stands in the beautiful Meriken Park not far from the Kobe's Maritime Museum and the 1995 Great Hanshin-Awaji Earthquake Memorial which gives the visitor a bit of an eerie feeling looking down at the rubble being so high off the ground. The tower survived the earthquake due to it's clever structure.
The tower was opened in 1963 and won several major architectural awards for its striking design. It was designed with inspiration from a Tsuzumi which is a traditional Japanese drum like musical instrument. It was designed by the Nikken Sekkei company and was the first tower to be built using this interesting form of pipe lattice.
The tower is also home to a rotating cafe and of course a souvenir shop filled with tower inspired trinkets including a cute little Kobe Tower character mascot.
The Kobe Port Tower located next to Meriken Park, the park is about a 5 minute walk south of Motomachi Station or you could get off at Kobe Station and access Meriken Park via a walk through the Harborland area and Mosaic Shopping centres.
Merikan Park and Harborland Map

View Merikan Park in a larger map
Also on Happy Jappy
Meriken Park
Kobe Maritime Museum
Official Website
http://www.kobe-meriken.or.jp/port-tower/ Japanese Only