Located on Kobe's waterfront Meriken Park is home to the Kobe Port Tower and Kobe Maritime Museum, the iconic metal frames of these two buildings have made Meriken Park a Kobe postcard favorite.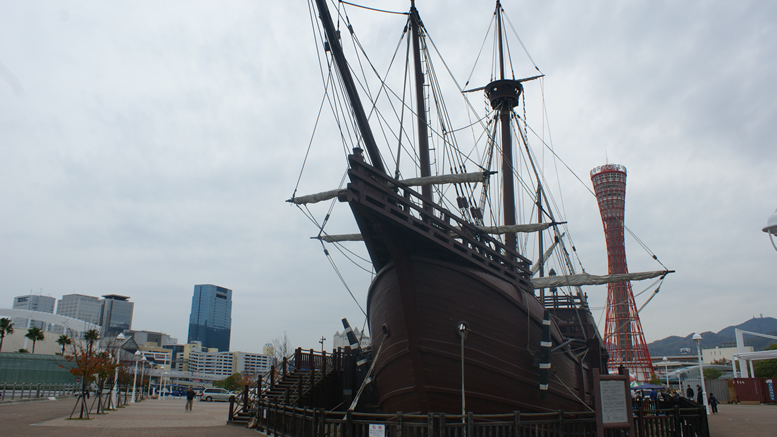 Meriken Park and the surrounding port area have become known as one of the areas that took much of the effects of 1995's Great Hanshin earthquake. Today the park has been repaired to its former self except for a small section of wharf that has been left as it was after the earthquake hit the park. The area surrounding the damaged wharf is known as Earthquake Memorial Park and features a small display of before and after photos along with a memorial dedicated to the earthquake's victim.
In the centre of Meriken Park is the Kobe Maritime Museum, Kobe was one of the world's busiest ports prior to the earthquake and this museum focuses on the history of the port. Kawasaki Good Times World adjoins the Maritime Museum and features many of the products of Kawasaki Heavy Industries Ltd from trains to bikes and performing robots. Outside of the museums two prototype boats are on public display, the larger of the two (known as the Yamato 1) has a futuristic "thunderbirds" look about it and was built in 1991 to test a new engine without any moving parts.
Next to the Maritime Museum is the Kobe Port Tower, this huge red steel tower has an observation deck at 90 metres that offers a spectacular views over the bay and the surrounding areas. The tower looks great at night when its steal frame is illuminated making for a great photo opportunity.
A small quay is located between Meriken Park and the Harborland entertainment district a small amusement park and shopping center known as Mosaic is on the edge of the Harborland area overlooking Meriken Park. Mosaic features several restaurants and cafes as well as a ferris wheel and other amusements. The quay is home to Naka Pier Chou Terminal, several cruises depart from here for tours of the bay.
Meriken Park is around a 5 minute walk south of Motomachi Station alternatively you could get off at Kobe Station and access Meriken Park via a walk through the Harborland area and Mosaic Shopping centres.
Merikan Park and Harborland Map

View Merikan Park in a larger map
Also in Merikan Park
Kobe Maritime Museum
Kobe Port Tower
Official Website
http://www.kobe-meriken.or.jp/ Japanese only