The Rokko Mountains are part of the mountain range behind Kobe. The highest peak Rokko Saikoho rises 931 metres and offers spectacular views of Kobe City and the outlying islands in Osaka Bay and a chance to escape the busy city life for a few hours.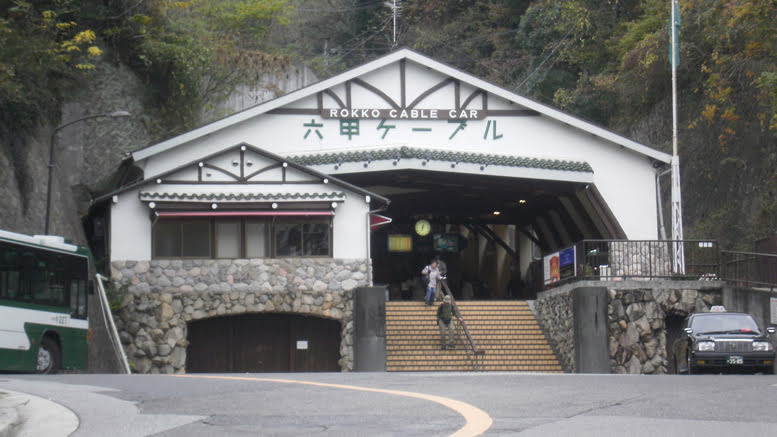 The are has a wealth of interesting places to visit and experiences for visitors including Japan's first golf course, the Kobe Golf Club which opened in 1903.
The Rokko Cable Car line is a must for any visitor, this steep funicular line dates back to 1932 and offers an incredible view of the forest. The railway has two cars, one heading up the Vertical interval of 493 metres another heading down.
For another spectacular view but this time above the tree line the Rokko Arima Ropeway is a must. This aerial bus travels from the top of Mount Rokko to the nearby Arima Olsen Hot Spring. The longest span on the ropeway measures at 627 metres and takes about 12 minutes for the trip. Buses travel between the Rokko Cable Car station and the Ropeway which circles the mountain.
The Rokko Alpine Botanical Garden is a chance to see some of the beautiful plant life which grow in alpine conditions. The gardens are most spectacular in Autumn when the leaves are changing colour. Over 1500 varieties of plant life are in the gardens.
Throughout the mountain ranges there are quiet a few Olsen, spas, restaurants and several tourist complexes like the Rokko Gardens Terrace which has some beautiful panoramic views of Kobe and even Osaka on a good day, a must for anyone wanting spectacular photographs. The area is also very popular for weddings and special celebrations.
The west side of the mountain is home to lush farmland, there are pastures of sheep, goats, cows and even donkeys. There cheese works in the area offer beautiful cheeses and are well worth a try.
Getting to Rokko is quiet easy, Bus no 16 leaves the Hankyu Sannomiya Station and JR Rokkomichi Station regularly for about a 10 minute ride to the Rokko Cable car Station.