Kobe is the home of one of Japan's most unique monuments, a 18 metre high 50 ton robot statue. The robot Ironman Tetsujin 28 go (or Gigantor as he was known outside Japan) has been the star of a popular manga anime since the late 1950's and was created by Kobe born Mitsuteru Yokoyama. The statue is made life-size and he is pretty heavy too, coming in at about 50 tons on the scales.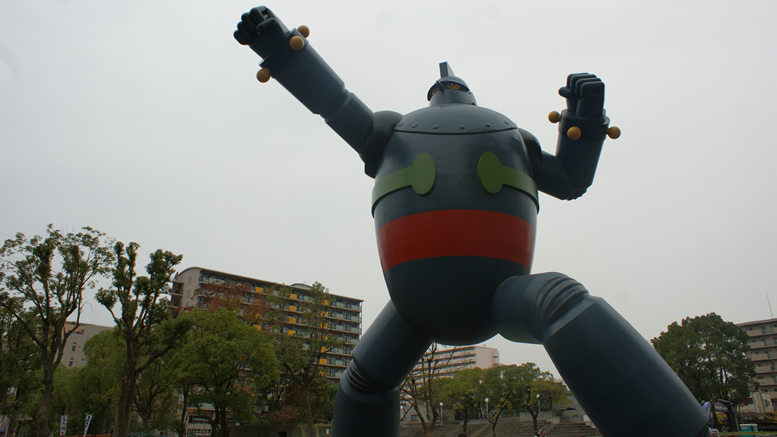 The amazing statue cost in excess of 135 million yen about $1.4 US to construct and is part of a innovative art program which is helping attract visitors back to Kobe after the massive rebuild from devastating damage after the 1995 Great Hanshin Earthquake. The Nagata Ward where the robot stands was one of the worst damaged areas from the earthquake.
The gigantic robot has been financed by the local business group and governments and is doing its bit to attract thousands of people a day to the shops and businesses around Shin-Nagata Station. There was even a special Tetsujin curry sold which raised funds for the build.The huge steel robot was unveiled in a special ceremony on the 4th of October 2009 after a build which took several months to complete.
For those wishing to visit this colossus robot take the JR train 2 stations past Kobe (about 30 minutes south of Osaka) to Shin Nagata Station. Then exit the seaside exit of the station turn right then head towards the Diamaru shopping complex, Tetsujin 28 is to the left of the centre standing proudly in Wakamatsu Park in his battle pose for all to see.
Tetsujin 28 is not the first life size robot to be built in Japan, Gundam a 15 metre robot was installed on Tokyo Bay's Odaiba Island but unfortunately it was only a temporary exhibition and has been removed, fortunately the mighty Tetsujin 28 is here to stay protecting Kobe from evil.
Tetsujin was launched in 1956 as a comic series and gained great popularity and in 1963 became a TV series, the series was later dubbed into English and was aired in America and other English speaking countries. Since then there he has appeared in seveal other projects including a film a few years back. Sadly Mitsuteru Yokoyama died in 1995 and didn't get to see his creation in life size but Tetsujin is sure to thrill young and old for years to come while he guards Kobe from future disasters and evil.
Tetsujin 28 Go is located near the Shin Nagata station on the JR Kobe Line. When exiting Shin Nagata station head towards the Daimaru department store in Joy Plaza, Tetsujin is located behind Daimaru and is only a few minutes walk from Shin Nagata station.