Once the capital of Japan, Kyoto is rich in heritage and tradition making it a popular destination for visitors to Japan. Located on the island of Honshu Kyoto is a little over 50 kilometres to the north east of Osaka. Situated on the main Tokyo to Osaka Tokaido Shinkansen bullet train line, Kyoto is easily accessible for a day trip or longer stay.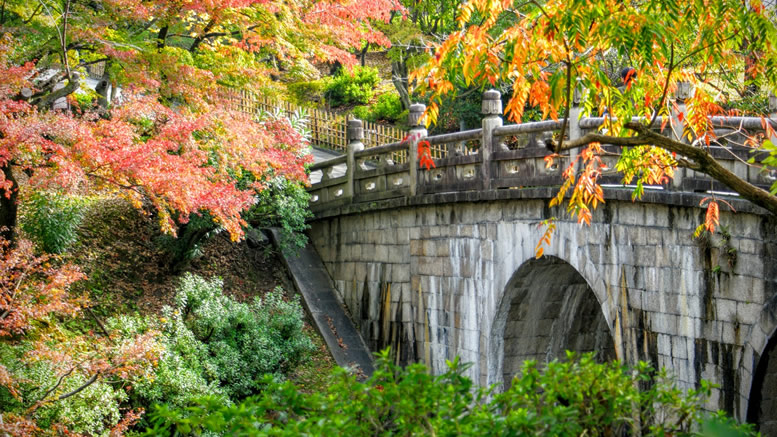 Being the imperial capital of Japan for 1000 years, the city is rich in history and culture. Kyoto has had a turbulent past with wars, rebellions, massive fires and great devastation from earthquakes. Although seriously considered as a nuclear bomb target, it was relatively spared by World War II and much of its beauty remains with many pre-war houses and structures still standing.
Development has taken its toll on some of Kyoto's pre-war housing, but some districts remain as they were a century or more ago, giving visitors a unique chance to indulge and enjoy a slower and charming side of Japanese culture. A favorite tourist destination is the Gion and Pontocho geisha quarters where visitors can step back in time and see beautiful geishas going about their daily routines along the historic lanes and streets.
The city is home to around 2000 places of religion with 400 Shinto Shrines and 1600 Buddhist temples, many with stunning architecture and beautiful gardens. The city also is home to an impressive Imperial Palace and past homes of the ruling Emperors, plus some of Japan's most precious treasures and artefacts.
The best way to explore Kyoto is on foot with a little bit of help from the rail system. As there are a few different networks operating in the city, it's best to have a Suica / Pasmo card or use the city's tourist travel pass that can be easily purchased.
There are many districts to explore but many of the sights are within easy reach of the main JR Kyoto Station and span off from the nearby Kamo River. The Kyoto Station area is home to the Kyoto Tower, shopping, dining and the large Higashi Honganji temple grounds. To the right of the river are many of the popular temples while the Nijo Castle, Imperial Palace main city centre is north of the station.
For foodies, Kyoto is a gastronomical dream and being further away from the sea than most of the other main centres in Japan along with a rich Buddhist heritage, vegetables are more of a focus than seafood. Shojin Ryori a vegetable and tofu broth has been a staple of Kyoto cuisine for centuries as is Obanzai Ryoni, the traditional home style cooking of Kyoto. This style of cooking sees many small dishes of simple food chosen for the season. Although simple they are prepared with engineering precision and many of Japan's finest chefs practice this food style.
Like many centres around Japan, a special food souvenir is popular for tourists. Kyoto is no exception and the Yatsuhashi is one of their most popular treats. This sweet bean paste filled triangle pastry a must when visiting Kyoto, they are delicious.