A visit to Kyoto is not complete without visiting the traditional entertainment district known as Gion. This tight district located around the Shinjo Avenue between the east side of Kamo river and the Yasaka Shrine is famous for its geisha and is filled will small restaurants, shops, ochaya tea houses and the wooden machiya merchant houses.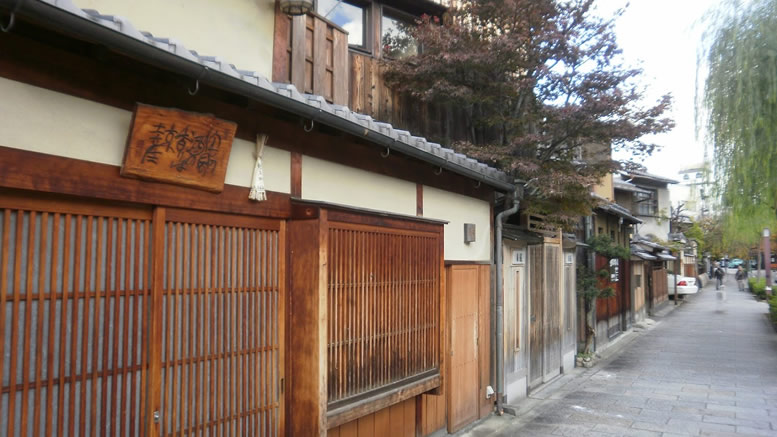 The ochaya teahouse are where the geisha and geiko apprentices known as the maiko entertain with their high levels of service and tradition. This helps give the Gion area a uniquely Japanese old world atmosphere.
Part of this historic district is now preserved as a national historical preservation district and many of the streets have been restored to take on a more traditional look. Even the majority of power lines have been taken underground to help make the area more authentic. The area is most beautiful in the spring when the cherry blossoms flower.
Today some of Kyoto's best restaurants and hostess bars are found in the area and there are also many members only bars and establishments along the narrow lanes. One popular cuisine found at many of the restaurants is Kaiseki ryori, a series of perfectly prepared small plates of food.
It is quite common to see geisha, or geiko as they are known in Kyoto, and the maiko going about their daily duties in and around the lanes of this district. Tourists are asked to treat these ladies with great respect and avoid hassling them for photographs or acting like a paparazzi. For those wanting to meet and be entertained by a geisha and maiko hostess, several of the larger hotels and tourist companies will be able to assist in organising a enjoyable but usually expensive experience where you will enjoy the warm services of the geisha enjoying food, drinks and traditional music and dance. The early evenings between 5:00pm and 6:30pm are usually the best times to see the geiko on their way to their evening engagements.
For visitors to Kyoto in July the Gion Matsuri festival held in the just across the river from the Gion is an amazing experience here move a million visitors flock to see a colourful procession of festive floats and traditional music and dance. The streets around Gion are closed to traffic and a huge afternoon and evening of celebration takes place with dozens of food and drink vendors lining the precinct. In the days leading up to the main procession smaller festivals are held in the evenings.
The closest railway stations on the Gion district are the Gion-Shijo Station on the Keihan Main line and the Hankyu serviced Kawaramachi Station on the Kyoto Line, alternatively the district is just under a 3 kilometre stroll from the main Kyoto JR Station.