Opening in 1964 and designed to look like a Japanese candle by architect Makoto Tanahashi, the Kyoto Tower is one of the more unusual structures on the Kyoto skyline. The needle like tower sits on a nine story building and rises 131 meters into the sky. It is the tallest man made structure in the ancient capital. The tower was originally designed to coincide with the 1964 Tokyo Olympic Games and the opening of the Shinkansen bullet train line as the Kyoto Station is located across the road.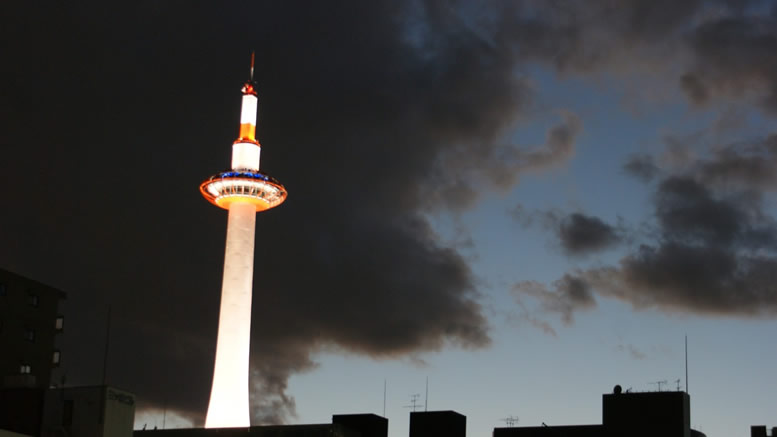 The tower sits on what was once the Kyoto Post Office and was met with plenty of controversy during construction. When the tower was opened many people thought the structure was too modern and not in harmony with Kyoto. The public were slowly turned around with comparisons made between the people's unsavory view of the Eiffel Tower when it was first imagined in Paris.
The tower features a public observatory 100 metres above the street level, offering spectacular views of the surrounding city and even views as far away as Osaka on a fine day. There is also a three story sky lounge restaurant that offers an upmarket bar and eating experience.
The lower building houses commercial space including an tourist information centre, public bath, a 100 yen shop and the three star Kyoto Tower Hotel.
At the time of writing the tower was open every day of the year from around 9:00 AM to 21:00 PM and had a 770 yen admittance fee.