For that real culinary experience in Kyoto, a visit to the Nishiki Market is a must with an incredible array of food, both fresh and prepared ready to eat. There are over 100 stalls selling just about everything edible from the freshest of seafood, vegetables, picked good, and a great range of delicious goods on sticks. As well as a delicious array of food there are often a few things that are not for the faint hearted. Some could even be described as a little stomach churning, like fresh fish guts and sometimes even whale meat. The market also has everything you would need to set up a Japanese kitchen with hand carved knives, cleavers, utensils, pots and pans as well as other unique cookware.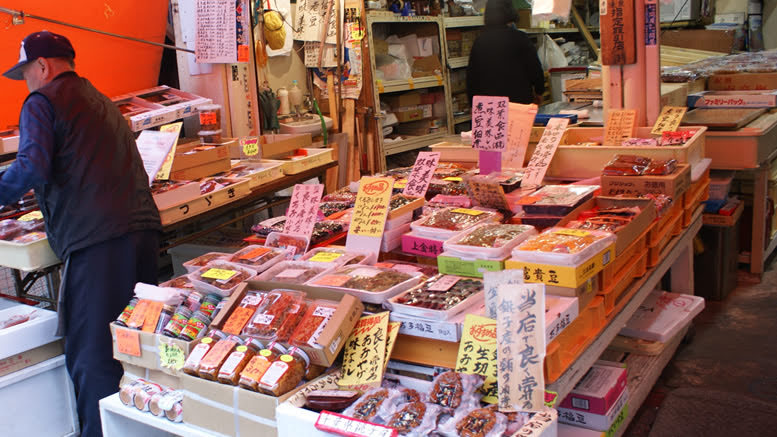 The narrow lanes and the amount of visitors gives the market a tight but exciting atmosphere. There are also some wonderful and some not so wonderful aromas coming from the amazing stalls, making for an interesting and unique visit.
Many stands offer samples of their specialties, so look out for them and try some of the more interesting things on offer, you might be in for a good surprise.
Known locally as Kyoto Kitchen, the market is believed to have started around 1310 when it sold primarily seafood. Over the years it has transformed to see a wide array of products. Interestingly many of the shop holders have ran their shops for generations with them being passed down the family.
Over recent years, gift and souvenir shops have moved into the market to cater for the visitor. So there are plenty of great stalls available to purchase a Kyoto memento. A few popular stores include the Ichihara Heibei Shoten who sell chopsticks of all types, and Artisugo who sell hand crafted knives. this buisness has a history dating back to 1560 and are an official supplier to the Imperial family.
Located downtown, the market runs between Teramachi and Shinmachi, just one block north of Shijo and is the largest traditional style food market in the city. It is open seven days a week from around 9:00 AM to 5:00 PM but many some shops do not open on the Wednesday. The market is around a 20 minute walk north from Kyoto Station but Shijo Station on the Karasuma Subway Line is the closest station, being only about 5 minutes walk away from the south exit.