The Shinto Yasaka Shrine is one of the more stunning sights found in Kyoto's Gion district, especially the red shrine gates as shown in our photograph. The red stone torri gate rises 9.5 metres high making it one of the largest found in Japan. It dates back to 1645 and is guarded by two komo-inu or lion dog guardians that are believed to date back to the 13th century.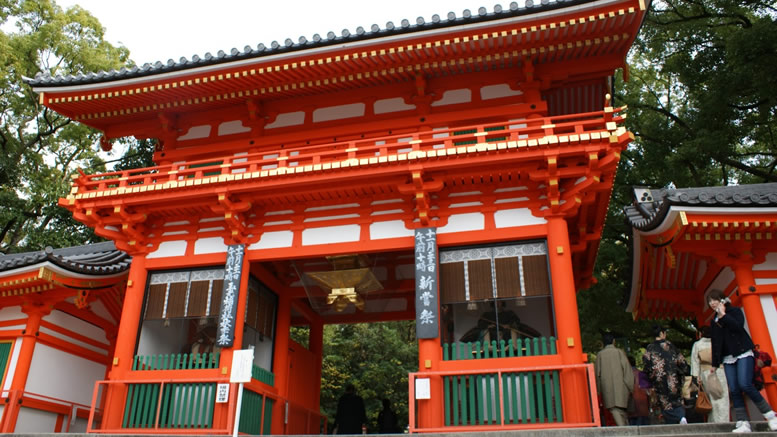 With a heritage dating back to 656, the shrine today is one of the city's most popular attractions and the focal point of the annual Gion Matsuri summer festival held in July, a festival that dates back to 869. The shrine is set amounst a large garden that is also a popular location to view the spectacular cherry blossoms and autumn leaves. The shrine is also a popular place to see in the New Year when a festival known as Okera Mairi attracts thousands. Here worshippers light a flame from the temple's sacred flame and take it home to cook their first meal of the year for good luck.
The shrine respects the great Japanese mythological God, Susanoo-no-mikoto who defeated the mighty eight headed serpent Yamata-no-orochi who is used in Japan as a symbol of many great disasters. Today there are an estimated 3000 satellite shrines around Japan based on the Yasaka Shrine.
Geisha are a common sight at the temple, it is quite common to see several of these stunningly dressed ladies on a visit to the temple.
The shrine is easily found by following Shijo Dori north from the river. The Keihan Gion Shijo Station can be found on the north bank of the river and is around a five minute walk to the shrine.
Official Website:
http://www.yasaka-jinja.or.jp/