Toyota Automobile Museum
One of several Toyota attractions in Toyota's home town of Nagoya is the Toyota Automobile Museum.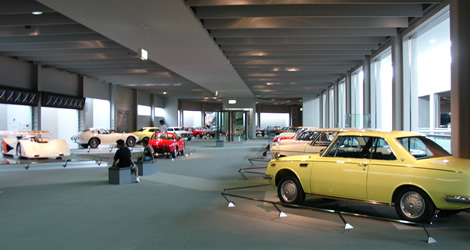 Opened in 1989 the museum is well set out and contains over 120 cars tracing the history of the car. You may think that a museum owned and operated by Toyota would only be displaying Toyota's but this museum features cars from all around the world with an emphasis on cars of importance to the motoring world or Japan.
All the cars on display have been painstakingly restored and are in showroom condition, quite a challenge for some of the Japanese models that have long been sent to the crusher. Their display of the first Toyota, the Toyota AA, is actually a replica hand built in 1987 for their 50th Anniversary from a set of old plans as Toyota could not find any surviving examples of the car.
The Toyota Automobile Museum is situated in the Nagakute-cho region of Aichi which is about 40 mins out of Nagoya city, fortunately the museum is situated not far from the former Expo 2005 grounds now known as Expo Memorial Park or Moricoro Park. This means transport to the museum is easy with the Linimo maglev train running past the museum. From Nagoya station take the Higashiyama Line to Fujigaoka Station and transfer to the Linimo Line to Geidai-dori Station.
Also in Nagoya
Toyota Commemorative Museum of Industry and Technology
Toyota Kaikan Exhibition Hall
Toyota Brand Zone at Midland Square
Official site
http://www.toyota.co.jp/Museum/index.html