Established in 1880 the beautiful Nara Park was designated as a scenic spot in 1922 and is a must for any visitor to the old capital. Positioned at the foot of Mount Wakakusa the park is home to some of the city's most famous and historic temples and shrines many of which have been designated a World Heritage Sites by UNESCO. The park is also home to the city's symbol the lovely sika deer which roam freely around the historic sites and thousands of daily visitors.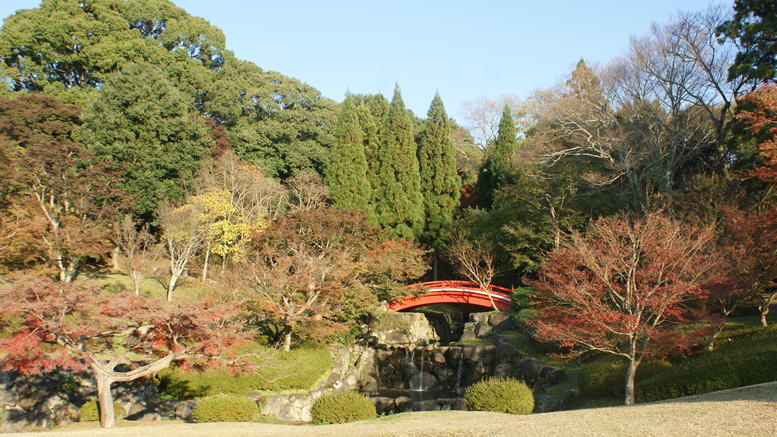 The park is only a short walk from the centre of Nara and the major rail station. The entire park area covers around 600 hectares it extends about 4 kilometre wide and 2 kilometres deep making it the biggest municipal park in Japan. The park has spacious lawns and many beautiful trees which are even more spectacular during the Autumn months and during the blossom season around April where the sakura cheery blossom and andormedia are very beautiful. The park features many ponds and streams which are teeming with wildlife, there are beautiful koi carp, many varieties of birds and visitors can often see tortoises sunning themselves on logs and rocks in the water.
The park is a magnificent place to see some of the history of Japan, many of the shrines and temples including the amazing five storey pagoda called the Sarusawe-ike , the Kofukuji Temple and Kasuga Grand Shrine, Another must see is the incredible Diabutsu Den, or Buddha Den, is pretty much in original state unlike many of the other temples in Japan which have been rebuilt after destruction from fires and war. This building is the largest wooden building standing on earth and is home to the largest Buddha in Japan and is home to the Japanese headquarters of the Kegon School of Buddhism. Finished in 1709 the temple stands at 157 feet tall.
The park is also home to the Nara National Museum which has one of the world's finest collections of Buddhist art and an amazing assortment of items in the National Treasure Hall.
The park is swarming with tourists every day of the year, but even more so during the more scenic months. There are some huge events in the park including the Deer Horn Cutting Ceremony in October , The Nara Toka-e light festival in August and the Shini-u fire festival in March which are huge events and attract tens of thousands more to the park lands.
As a close symbol of friendship between Australia and Japan, Australia's capital Canberra has a Nara Park, it features two huge Yukimi Lanterns which were given by the people of Nara to Australia.