If you are visiting the youth areas like Tokyo's Akihabara and Harajuku or Osaka's Amerika-Mura, it won't be long before you come across Cosplay. Cosplay is the term for people dressing up in themed costumes. It may be a maid costume, a school girl, a butler or some weird and wonderful cartoon character. Cosplay is quite popular, especially with older teenagers and young adults.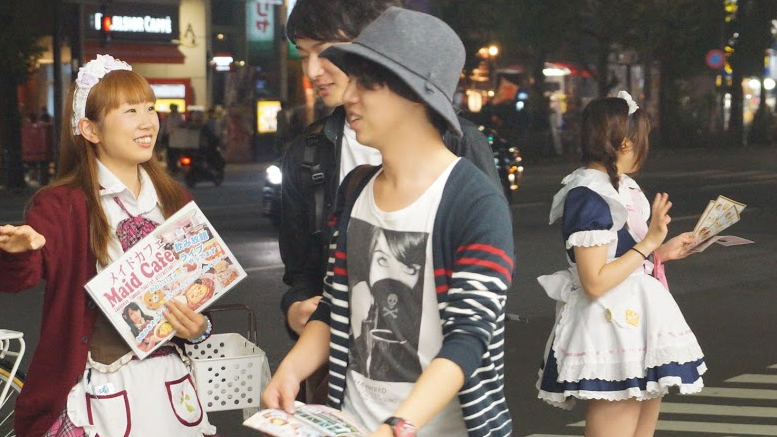 Weekends are the most popular times to get into character, and for those visiting Tokyo, Jingubashi near Harajuku Station is a favourite meeting place for people into Cosplay, and there are usually plenty of musicians dressed up in theme just to get noticed by talent scouts.
Cosplay is done for many different reasons, and the biggest one is just for fun and to draw some attention, while other people dress up for an escape from the formalised and bee like life in the big cities, while others do it for a fetish. Even many of the red light establishments and love hotels have got in on the act and have special cosplay themes. Gender roles are quite popular with girls dressing as boys and boys dressing as girls, it usually doesn't have any sexual overtones and is just a bit of fun and escape.
There are many cafes and entertainment complexes where people visit to be waited on or entertained by someone in cosplay. The cosplayer can truly escape and get into their character not only looking like them but even talking and acting like them. Some even write stories, or make short films and self made spin off films. Once the cosplayer gets into their character, they nearly become that character.
There is an array of cosplay events held across the Japanese calendar. These events are like giant conventions that attract thousands of people in costume. It is a sight to be seen, with just about every si-fi character and cartoon character in attendance. There is always a fair share of people dressed up as the latest cult hero, video game character or other famous icon.
With the huge influx of social networking in recent years, cosplay is growing from strength to strength with networks of like minded people both interested in being a character or seeing other characters. This is also adding to the massive sub culture that fashion designers, artists, animators and film makers are also tapping into.
Also on Happy Happy
Anime
Cute Culture