The Japanese are enthralled with cute characters on just about everything. Known as cute or "Kawaii" culture, many businesses have a cute mascot and soft and cute plush toys that come in all shapes and sizes are just about everywhere.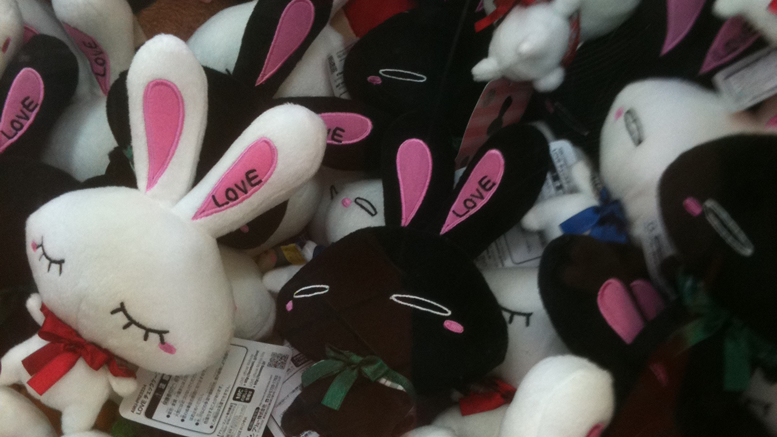 As well as the usual teddy bear and fluffy kitten, there are soft toys for just about everything you could imagine and quite a few you couldn't. From soft crayfish, soft fruit and vegetables to even soft cuddly poo. There are hundreds if not thousands of different characters. Many of these characters are really seen outside of Japan, along with all the usual we know and love from the rest of the world like Disney characters, Snoopy, Miffy the bunny and Japan's own Hello Kitty.
There is barely a mobile phone without a few miniature soft toy mascots hanging off it. It doesn't matter if you are a 12 year old school girl or a 60 year old business guy in a grey suit, they would have to be the number one fashion accessory.
Just about every business has its own cartoon mascot, and many have them available as marketing tools or toys you can buy. Department stores are jammed packed with a huge assortment of soft cuddly and cute toys and the amusement areas have machines topped to the brim with every conceivable character. Many of the most popular characters have their very own store where you can purchase just about everything from trinkets, to clothing and computers, even toilet paper and condoms.
The obsession with all things cuddly have even caused stampedes at some of the major burger chain stores when they release new ranges of soft toys with their kiddie meals. The demand and crush was so intense a few years ago when a new Hello Kitty toy was given away in a meal, the restaurant chain had to stop the promotion before someone got seriously hurt in the excitement.
The soft and cuddly toys don't always come stuffed with polyester and straw, they are often found life size with a person inside. Life size mascots are quite common and are often found on street corners in the busy city precincts, handing out flyers or tissues to passers by. You are almost guaranteed of seeing a big mascot at a festival, street event or major attraction.
Also on Happy Jappy
Japanese Cartoon Charactors