Most of the restaurants in Japan have plastic food models of many of their dishes outside the restaurant or in their windows. There are some incredible models which look convincing enough to eat, and give you an excellent idea of what to order. There's no problem trying to understand a badly translated menu when you can see a perfect plastic replica of what is on offer.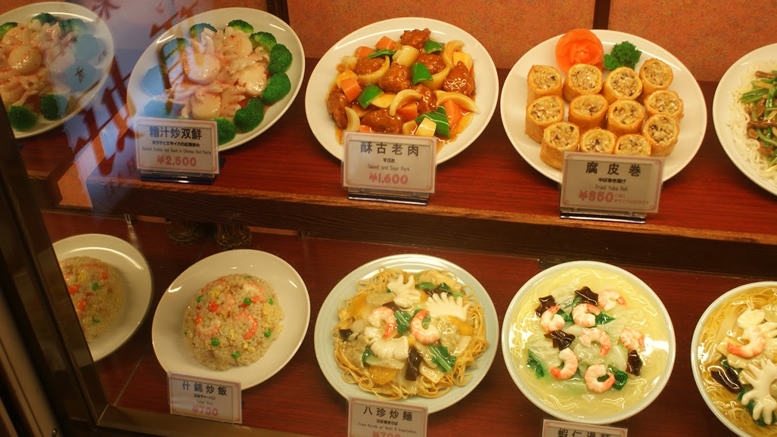 The Tokyo street Kappabashi-dori or "Kitchen Town" as it is known, specialises in all kitchen needs. The shops in this suburb sell just about everything you could need in a home or commercial kitchen, from pots and pans, knives and chopping boards to plastic replica foods. You can purchase just about every imaginable dish in plastic, and they are extremely realistic.
The plastic food models are quite an art form, they date back to about 1917 when they were produced from wax; now they are usually made with a vinyl plastic resin. The real food is covered in a silicon mixture then allowed to dry. It is then cleaned and filled with the plastic resin and then painted to resemble the real food. The plastic food models are known as sampuru, taken from the English word, sample.
In most cases, the plastic food is hand moulded and painted so it is quite expensive to buy, but there is no better souvenir of Japan than a few plastic sushi rolls or a plastic bowl of rice.
To visit Kappabashi catch the Ginza subway line to the Tawaramachi Station, where you are in for about a 5 minute walk. There are about 8 blocks of kitchen related shops. Kappabashi is also an excellent place to pick up Buddhist and Shinto supplies, crockery and lovely wooden bento boxes.
If you are in Osaka, the Douguyasuji shopping strip is Osaka's version of Tokyo's kitchen town. More compact than Kappabashi, it is well worth a look if you are in the area, Douguyasuji is a couple of blocks south east of Osaka's Namba station.