Built on reclaimed land the 225 hectare Maishma Island is split up into four zones with a zone for sport, one for education, one for recreation and the other for health. The sports section takes up about 120 hectares of the total size of the island.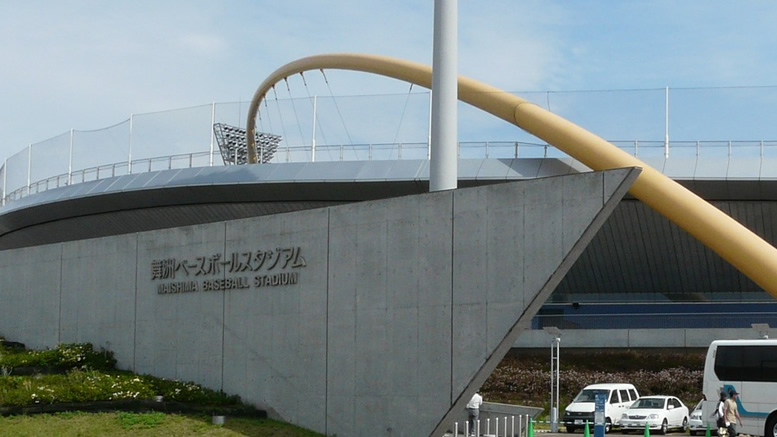 The biggest structure is the Maishima Arena, it is a multi-purpose building which is used for amateur baseball holding around 10,000 people. The Maishima Arena is home to volleyball, basketball, handball, badminton and tennis there is seating available for over 7000 spectators. The entire area cost over 120 billion yen to complete.
There are some lovely parklands and a seaside promenade which stretches about 1km along the coastline of the artificial rocky beach. This is a popular place for joggers, walkers or cyclists.
The precinct even has a yachting centre with the Maishima marine Yard being home to 125 water craft.
Along the promenade there is a pottery center where you can purchase pottery or see it being made and for the more adventurous there is a helicopter port offering excursions.
Two buildings of note on the island include a waste incineration plant and a sludge treatment facility. While they may not be the first things you would think of when visiting a leisure district, the design of these two buildings architecture can only be described as Dr Seuss like. From the outside the buildings look like they could house some sort of fun park but unfortunately there is nothing fun about sludge, so these two buildings are best viewed from the bus window on the way onto the island.
Nishi-kujo Station on JR Osaka Loop Line;
Osaka city bus, Express No.81 bus to Maishima Sports Island, 6 bus stops inside Maishima.
or
Sakurajima Station on JR Sakurajima Line;
Osaka city bus, Special No.81 bus to Maishima Sports Island, 6 bus stops inside Maishima.