The Kaiyukan Osaka Aquarium is one of the most impressive aquariums in the world, offering a glimpse of some incredible sea creatures rarely seen by humans all in one monstrous complex.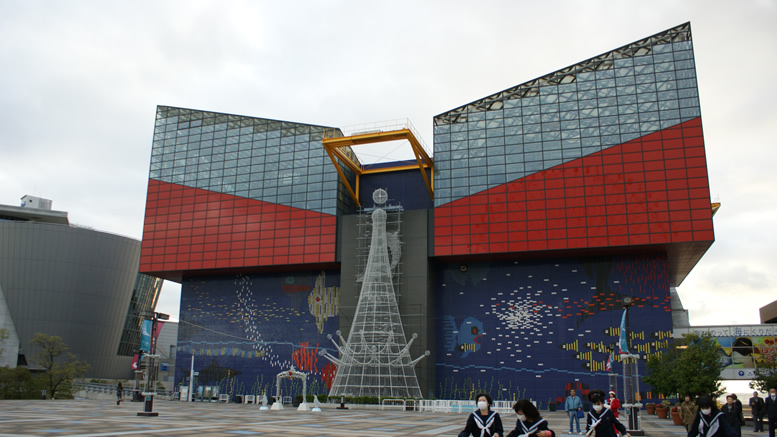 The aquarium opened in 1990 and features over 470 species of animals and has nearly 11,000 cubic metres of tanks. The largest tank holds some 5,400 cubic metres making it the largest in the world and is home to the amazing Pacific Ocean exhibit. This exhibit features a wide range of sharks, manta rays, blue fin tuna and the enormous whale shark then largest fish in the world's oceans.
The aquarium features displays representing many important aquatic features around Japan including the Sento Inland Sea, Japanese Trench complete with huge spider crabs and giant North Pacific Octopus. The Japanese forest exhibit is a very popular exhibit featuring a family of Asian small claw otters and the unusual giant Japanese salamander.
Many of the world's great oceans and unique places are also exhibited at the aquarium including the Great Barrier Reef, Panama Bay, Chilean Rocks and the Cook Strait, here visitors can come face to face with sea turtles and other fascinating sea life.
The Antarctica exhibition is a very popular exhibit at the aquarium with visitors flocking to see the Adeline and King Penguins. There are also a family of rock hopper penguins on display in the Falklands Exhibit. The aquarium also features a range of seals including the Harbour Seal and California Sea Lion in the Monterey Bay exhibit and there are a school of Pacific white sided dolphins in the Tasman Sea exhibit.
Many of the exhibits are interactive and guests can even get up close to some of the creatures including stingrays and fish in the Maldives touch pool.
The Tempozan Harbor Village around the aquarium offers around 100 shops and restaurants so there are plenty of places to shop and pick up some great souvenirs, stuffed animals, books and toys.
The Osaka Aquarium is usually open seven days a week from 10:00 AM to 8:00 PM and special joint tickets are available to use with the Osaka City Municipal Transport network. The aquarium offers English leaflets and there is also an English audio guide available.
The Osaka Aquarium Kaiyukan is part of Tempozan Harbour Village and is accessible via a 5 min walk from Osakako Station on the Subway Chuo Line or a 10 min walk from Universal City Station on the JR Sakurajima Line. A ferry service also operates between Tempozan and Universal Studios.
Official Site