Not far from Universal Studios is the Tempozan Harbour Village, that is a modern waterfront shopping and entertainment area situated around 20 minutes from Osaka's CBD.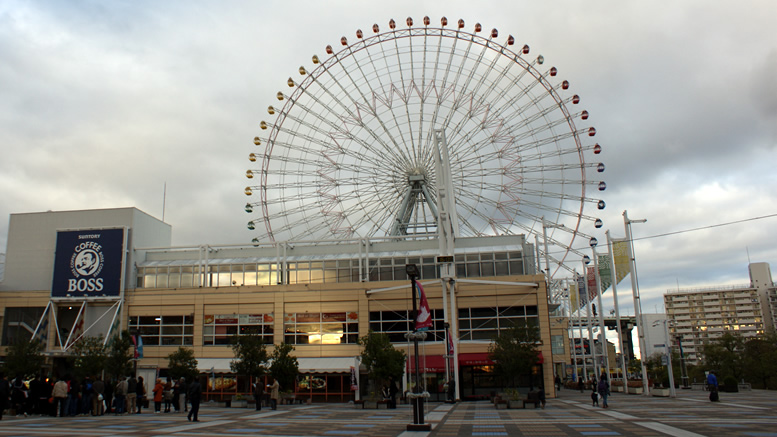 The main part of Tempozan is a shopping centre with a large food court with both Japanese restaurants and some western fast food outlets. The shopping centre features plenty of small retail outlets as well as the Sega World entertainment centre in the basement.
The Tempozan Harbour precinct is home to many of Osaka's major tourist attractions and becomes very busy during the weekends and summer holiday season with thousands flocking to the centre.
Until the London Eye opened the Tempozan Giant Ferris Wheel was the biggest, tallest and most technologically advance ferris wheel on earth. This massive structure is over 112 metres high and has 60 passenger carriages. It is a fantastic place to see the sights of Osaka with breathtaking views of the harbour, Mt Rokko and the entire city area. The night time skyrocket fireworks lighting effects are an amazing sight in the evenings when 100 meters of the structure is lit up with a display of fireworks. The giant Ferris Wheel is a favorite spot for romantic couples to enjoy each others company while taking in the scenery.
The Osaka Aquarium Kaiyukan is Osaka's biggest attraction attracting millions each year to see some of the amazing sea life from the Pacific Rim. There are some 30,000 marine creatures with over 580 species, on display including everything from jellyfish to whale sharks, which are the largest fish found in the ocean. Favorites also include dolphins, otters and penguins. There are 15 huge tanks which hold over 5000 tons of sea water each This aquarium is rated one of the best aquarium in Japan and among the best in the world. There are hours of informative entertainment for young and old.
Other attractions at Tempozan include a gallery space known as the Osaka Culturarium that displays various exhibits throughout the year as well as the Legoland Discovery Centre, a popular attraction with the kids.
The Tempozan Marketplace is also a great place to visit with a large selection of dining experiences, from the cheap to the expensive and from the ordinary to the unexpected. There are some magnificent specialties to try including Osaka's special "takoyaki" octopus balls, and tasty curry, "okonomiyaki". The marketplace also has a good range of specialty stores and smaller entertainment centres.
A ferry know as the Santa Maria offers cruises of the Osaka bay area, while another ferry offers a shuttle service to Universal Studios, Universal City Walk and Universal City JR station. Tempozan Harbour Village is also accessible via a 5 min walk from Osakako Station on the Subway Chuo Line or a 10 min walk from Universal City Station on the JR Sakurajima Line.
Website http://www.kaiyukan.com/thv/ (Japanese only)