Cosmo Tower or WTC (World Trade Centre) Cosmo Tower as it was formerly known, is western Japan's tallest building and the second tallest in Japan, standing some 256 metres tall.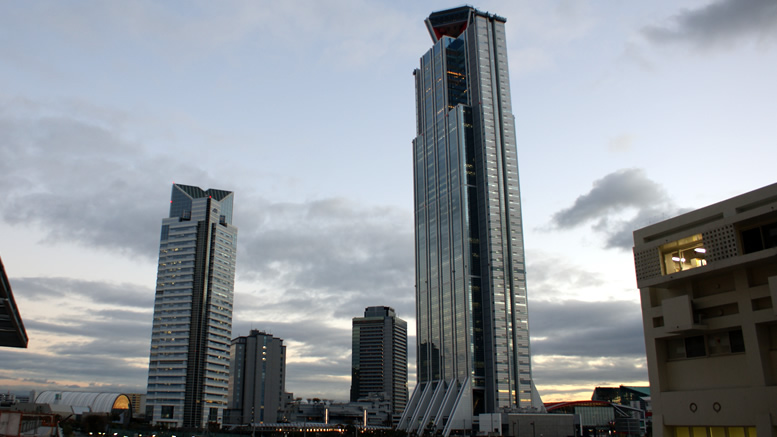 It is a 55 floor collection of offices, restaurants, exhibition halls and even a museum and a wedding venue. It also includes an amazing 360 degree view visitor's sky lounge and observatory making it the best view in Osaka.
Being the tallest building in the region the building is also used for transmitting of technology. The building is home to one of Osaka's biggest media centres and dozens of business branches of offices around the world.
The 55th floor view is quite spectacular, with great views of the Kansai International Airport, the Bay, Awajai Island and Mt Rokko in the distance. There is even a transparent elevator that takes visitors 52 floors in only 80 seconds and rises from a waterfall and reflecting pool which extends to an outdoor plaza.
Being built in earthquake country, the tower has some very smart technology keeping it safe including computerised vibration control devices and world class smoke detection systems. There is also a green air conditioning system which protects the environment, plus the latest in security and comfort.
The centre opened in 1995 and has a theme of the cosmos, with black marble foyer with abstract art interpretations of the sun, moon, stars and planets. There are also huge stainless steel art panels which also have interpretations of the heavens.
The floor has a magnificent display of fibre optics light in the foyer with the Milky Way coming to life twinkling away. It is not hard to see why this building is a romantic stop for young couples at twilight and a popular place for wedding receptions and photographs.
The centre is easily reached with a three minute walk from the Trade Centre Mae station which is on the new OTS Tram Technoport line.