About Kita
Kita in Japan means the northern centre and that's exactly what Kita in Osaka is. Kita is well known for it's huge and energetic shopping district. The area is jam packed with skyscrapers, shopping malls, huge department stores and a large range of restaurants, cafes and entertainment halls and is home to what was Japan's first underground shopping mall. Kita is also home to Osaka Station which is JR Rail's largest terminal in Japan.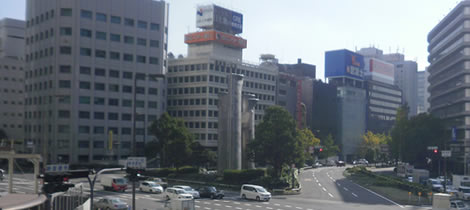 The area has some of Osaka's most striking architecture including the Maru Biru, which is a cylindrical building and the Umeda Sky Biru. The Umeda Sky Biru is commonly known as the Sky Building, it has two 40 storey towers connected by a sky bridge and escalators crossing its huge open atrium with a floating garden 170 metres above the ground.
Hep 5 is one of the new shopping complexes in Kita it has one of Japan's largest ferris wheels on the top of its roof and is very popular with young lovers.
Osaka's cultural home sits on the edge of Kita on the island that sits in the river that separates the districts of Kita and Minami known as Nakanoshima. Nakanoshima has several museums including the Museum of Oriental Ceramics, National Museum of Art as well as Osaka Performing Arts Centre and the Science Museum all finding homes on the island. The Osaka-jo Castle and Osaka City Museum are situated a few blocks east of the Kita district.