Housing over 150 specialty stores and restaurants, HEP Five shopping centre is regarded as one of Osaka's best shopping and entertainment complexes. The centre is a very popular place for fashion shopping with many stores targeted to the teen and twenties market.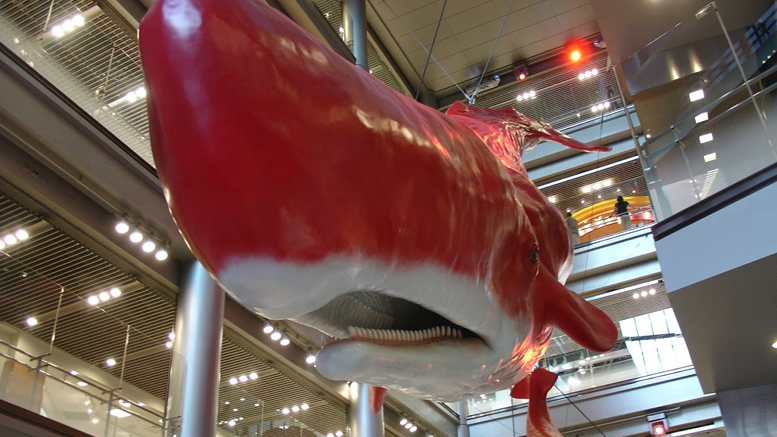 Over 17 million people visit the HEP 5 complex each year, most of them are young females looking for the latest fashion item. HEP stands for Hankyo Entertainment Park and is owned by the huge Hankyo railway company that owns several premier properties in Osaka.
The highlight of the shopping centre is the huge red Ferris wheel above the 9th floor of the centre.  The wheel consists of 52 four person luxury gondolas and stands at a height of 106 meters from street level. The wheel is not only a great place to have a quiet moment with your loved one, but it is also a fantastic place to see the scenic sprawling Osaka city precincts. A ride on the wheel takes about 15 minutes to complete the cycle.
The centre opened in November of 1998 and consists of over 45,000 square meters of floor space. Some of the stores at HEP 5 include Tommy, Pinky Girls, Mayson Grey, Misch Masch, GAP and Fluffy. The centre also features a Sega Joypolis arcade centre as well as a cinema complex.
The huge atrium of the centre has a magnificent 20 metre long red whale with her baby suspended from the ceiling which is quite a spectacular sight while going up and down the escalators. The upper floors have a wide range of dining options from themed dining experiences to the more traditional Japanese cuisine. As there are so many choices for good food in Osaka, most of the cafés and restaurants are very reasonably priced, with quick and friendly service.
HEP Five also links into the huge underground shopping maze where there are miles of specialty shops, and even more cafes and bars along with enterances to Osaka Station, Yodobashi Camera and the Ekimae Buildings. This underground labyrinth was built to connect the various subway lines in the area to Osaka Station and its neighbouring buildings.
Hep Five is located near JR's Osaka Station and the Umeda subway station on the Midosuji line. Head east of Osaka Stations south exit, Hep Five is behind the Hankyu Umeda Main store.
Website: http://www.hepfive.jp