Museum of Housing and Living
The Osaka Museum of Housing and Living might sound like a strange name for a museum but his is one of the most innovating museums in Japan. It has some amazing detailed displays which bring back the streetscapes of Osaka from days gone by. The museum has painstakingly recreated entire streets which really show how life was in the past.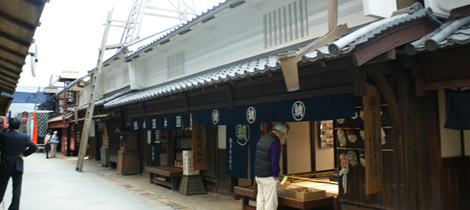 The Museum of Housing and Living or Osaka Kurashi no Konjakukan as it is known has some fascinating displays including dioramas from different periods in time, in fact there is a model of the entire city during the Edo period.
One of the first displays of the museum is a full size reproduction street scene of the 1830's that people can walk around and experience to get an understanding of what life in Osaka was like back then. You can then trace the history forward towards today via the many interactive models that show the changes that Osaka has undergone from ancient to modern times and learn how this city has become one of the Asia's great cities.
The museum is located at 6-4-20 Tenjinbashi, Kita-ku and is accessible by train by going to the Tenjinbashi 6-chome Station on the Tanimachi or Sakisuji subway lines. The museum is not that well signposted but is located on the 8th floor of the building above exit 3 of the Tenjinbashi 6-chome station. A lengthy undercover shopping street known as Tenjinbashi also starts alongside this station and is worth a visit while in the area.   The museum is usually closed on Tuesdays and the day after national holidays and some Mondays.