The Umeda Sky building is probably one of the most recognized buildings in Osaka. The building is comprised of two 40 story towers that are connected together at the top, via a large observation deck and garden.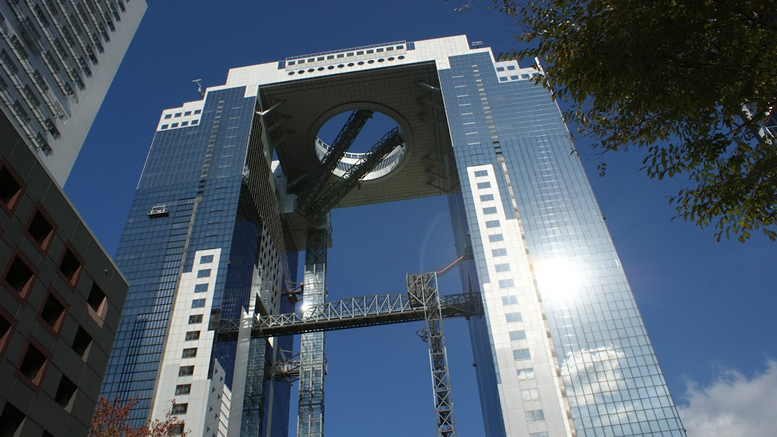 Completed in 1993, the two towers were built independently. Once construction of the towers was almost complete the "Floating Observatory Garden" was constructed at ground level and hoisted up the building to the 40th floor.
The concept of joining the buildings at the top was said to be a futuristic look at modern building practices. This allows users of the building to transfer from one building to another via the top as well as the bottom, something that is not possible with traditional twin tower construction.
The benefits of the building's design allows for a huge observation deck with one deck inside the building and another deck outside of the building. The outdoor deck is a fantastic experience if you really like to get the wind rushing past you at 173m up in the sky.
For those who don't suffer from vertigo there is a glass elevator that takes you to the observation deck and the 39th floor Chinese restaurant and bar.
The basement of the building houses a food theme park type attraction known as Takimi Koji. This popular gourmet destination is made up of several streets in a faithful replica of a downtown area from the early Showa Period. Covered in artefacts from the early to mid-1900's, this mini indoor neighbourhood is filled with plenty of restaurants to tempt your taste buds.
The Umeda Sky Building is situated just north west of the Osaka Station.
Official website:
http://www.skybldg.co.jp