About Minami
Minami means the South and is basically South Osaka and is home to Namba Station and the huge entertainment and shopping districts.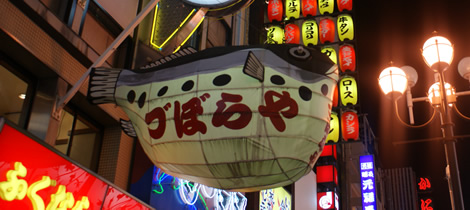 The Minami area includes the American inspired Amerika Mura Village, the Den Den Town Electronics town and the canal precinct along Dotonbori River which at night resembles Las Vegas with its huge neon and video walls. The long covered street of Shinsaibashi-suji stretched several blocks from the Dotombori area to Shinsaibashi station, here every thing from 100Yen shops to high fashion boutiques can be found lining the busy walkway.
Minimi is also home to the National Bunraku Theatre, A traditional form of Japanese puppet theatre that originated in Osaka.
If you want electronics, fashion, food or fun then Minami has it all with thousands of shops ranging from small boutiques to huge department stores and restaurants selling every conceivable food and entertainment from pachinko to bars to electronic game parlours and of course the love hotels.