Amerika-Mura
The movie Bladerunner, where east meets west or somewhere from out of space would be the only way you could describe this amazing place known as Amerika-Mura or Amernura the American Village. As the name may suggest is one of Osaka's most fascinating, electric and more unusual places. This area is a whole suburb which is at the cutting edge of Japanese youth culture.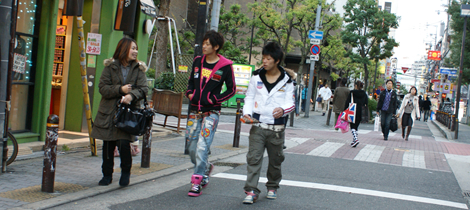 The narrow streets and lanes are home to a youth Mecca jammed packed with cafes, clothing, novelty and music stores, many selling imported and second hand products with an American influence. It is a great place to see some weird Jinglish T-shirts. One of the best people watching spots is the small triangle shaped park called Sankaku Koen which is in the centre of Amerika-mura. Here you will see just about anything from punks driving giant Hummers to Japanese style French Maids to spiky haired blonde guys wearing jungle green army fitouts. It is a very lively fun atmosphere. Many of the buildings get into the action too with giant American styled artworks on buildings including King Kong, The Statue of Liberty and huge clowns. The street lamp posts event get into the action all being sculptured to look like robots.
There are some great places to get a bite to eat in the area, many of the cafe's have an American influence, some just like down town LA but others.. well octopus burgers with French fries haven't quite hit the burger chains menu yet in the States. For the most fun, visit on a weekend when there are flea markets and street stalls in full swing with lots of action including some great busker's doing some horrible things to the classic American tunes.
The area dates back to the 1970's and since then has become the youth capital of Osaka and is only a short walk from the huge undercover shopping arcade of Dotombori and is easily reached from by rail from Shinsaibashi on the Midosuji Subway Line and Nagahori Tsurumi-ryokuchi Subway Line.
The area is one of the best ways to fill in an afternoon in Osaka, you can get some fantastic photo of the architecture, the sights and the people posing just to be noticed. There's some great food including the Osaka famous Takoyaki Octopus Balls which taste much better than they sound. And there some great shopping around where you are certain to find something you will see nowhere else on earth. To top off the evening visit one of the coffee shops or even a karaoke parlor and try your hand at the microphone.
Related pages on Happy Jappy
Dotombori
Shinsaibashi
About Minami
Getting around Osaka