Sometimes known as Nihonbashi or Nipponbashi, Den Den Town, like Tokyo's Akihabara, is Osaka's electrical district. This amazing district from Nansan Dori to Nihombashi is filled with electrical store after electrical store. There are hundreds of shops selling just about everything imaginable that is electronic. You can buy just about anything from small battery operated toys to the latest computerised products.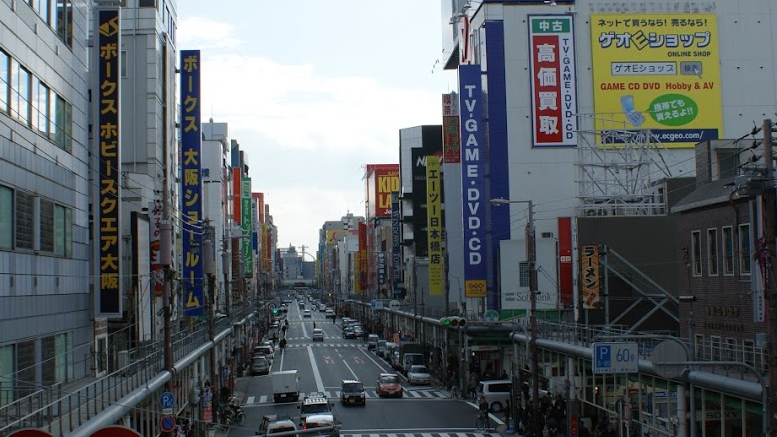 The area is also a popular place for hardware, furniture and antiques but the bustling area is mainly made up of electronic stores. They range from the small kiosks selling CDs and MP3 players up to larger department stores which sell cameras, air conditioners and other large ticket items.
The variety of items is amazing and you can buy almost anything. On our last visit we saw a huge variety of novelty items. There were dozens of different types of electronic Hello Kittys, USB memory sticks in the shapes of plastic sushi and even a computer case which has a place for a goldfish. Unique household appliances are also popular and fun to check out, with electronic toilet seats and electronic horse saddle fitness machines being all the rage. There is also a huge assortment of quality electronic gadgets available. All you need is pockets full of cash.
Unlike most other stores in Japan, it is not impolite to haggle a bit on price. Many of the larger stores will bargain a bit with prices. Usually you can expect a 10 to 15% discount on the ticketed price. Japan unlike most of Asia has most of their products tagged with the price so it is easy to see what to spend. For foreigners who don't speak Japanese a friendly 'Kansai Ben' gets you started. With the use of your passport you can usually get a sales tax discount too… it's all worth a try. Another favourite for tourists in the area is to visit the Osaka Hard Rock Cafe that is near Namba Railway Station.
Den Den Town is easily reached with a few minutes' walk from Nipponbashi Station which is on the Sakaisuji Subway line and only 5 minutes' walk from Namba Station.