Dotonbori
Dotonbori is home to Osaka's canal banked entertainment district and has one of the most electric and exciting atmospheres found anywhere in Japan, especially at night when the neon comes alive to the sounds and smells of this great precinct which is jammed packed with bars, cafes, restaurants and fashion stores.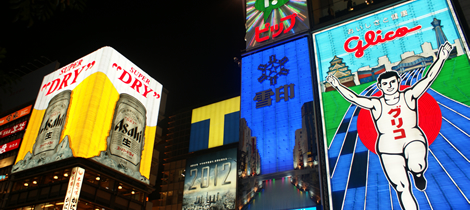 There are just so many places to eat and drink along these narrow streets and alleys they are everywhere which are great for competition and variety. Most places offer the best food you have ever tasted and are priced at very affordable prices. Be sure to try some of the local specialties including the takoyaki octopus balls or Okinomiyaki which is a batter pancake like treat packed with vegetables and seafood or meats both can be purchased freshly off street stalls for only a few hundred yen and are delicious.
Another treat in the Dotonbori area is fugu. It is a poisonous and potentially lethal fish called a blow fish. It is served in many of the restaurants as a specialty. The trick is if it isn't prepared properly you will probably die, it doesn't happen very often but it does happen. The threats of the poisonous fugu doesn't stop people from eating it because it is meant to be delicious.  Most of the restaurants which serve the fugu have giant blow fish outside their restaurant. For those a little less adventurous there are some fantastic shabu – shabu all you can eat restaurants where you can cook your own treats.
At night time the place is an amazing mixture of light and sounds and a trip to Osaka is not complete without experiencing this amazing place. There are giant neon fish, mechanical crabs, clowns, lanterns you name it, all flashing and moving. Along the river the huge neon and video displays reflect along the Dotonbori river where cruise boats move people up and down the river. This vibrant place is quite dazzling and thousands flock every night to enjoy a bite to eat or visit the many entertainment centers along the strip offering everything from karaoke, video games or the much loved pachinko.
The river is in fact man made, it was carved through the area in the early 1600's, being built as a drainage outlet for land reclaimed in the area. Today it is the focal point of the area. The Dotonbori Bridge is where people meet after huge sporting victories like the soccer or baseball. People usually get a bit too excited and some even jump off the bridge into the murky canal below. in 1985 a statue of Colonel Sanders was broken off the local KFC and thrown in the river when the Hanshin Tigers won the Japan Championship Baseball Series. The locals now believe the late Colonel has put a curse on the team because they have not won the series since.
To visit the Dotonbori area, catch the train to Namba Station on the Midosuji Line.