Like many of the towers in Japan, Osaka's Tsutenkaku Tower is loosely based on Paris's Eifel Tower. The Tsutenkaku, or Path Reaching Heaven, is one of the most recognisable icons of Osaka. Owned by the Tsutenkaku Kanko Co, the tower lights up the skies above the Shinsekai entertainment district of the Naniwa Ward.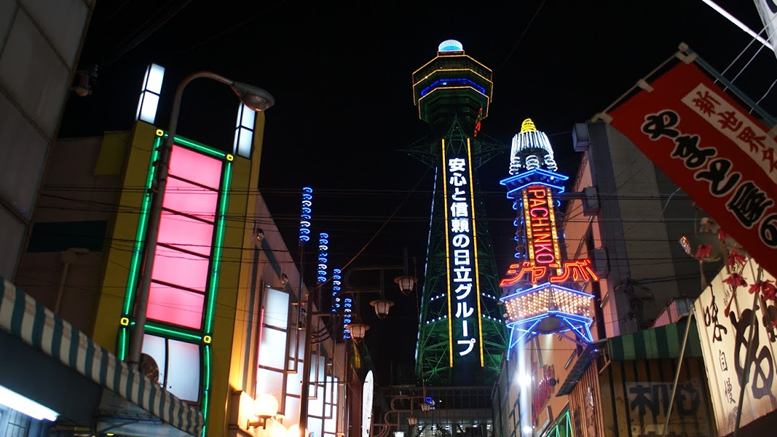 The steel tower has a total height of 103 metres, there is an observation deck at 91 metres above the ground and attracts around 650,000 visitors to its deck every year.
This is the second tower to stand near the site, the original tower was built in 1912 as part of a huge amusement park that surrounded the area known as Luna Park. The structure had an aerial cable car to it and was a huge success. With the threat of the tower becoming a navigational point for the American Bombing raids during the Second World War, it was decided to dismantle the tower. The remains of the tower gave the state much needed steel for its wartime manufacturing.
After the war there was a big movement to rebuild the much loved tower and in 1956 the Tsutenkaku Kanko Company came to the party and opened a brand new tower. The tower has been covered in stunning neon, with the huge electronics company Hitachi being one of the major advertisers since 1957.
Designed by Tachu Naito (who also designed Tokyo's Eifel Tower lookalike) the Tsutenkaku stands over a huge entertainment district filled with restaurants, bars, novelty shops and of course pachinko.
A decade or so ago the area was run down and was not the safest place in Osaka, but recently the area has taken on a very vibrant pulse with new restaurants and a real tourist push in the area.
The area around the tower is known for the birthplace of the Takoyaki Octopus Ball and there are certainly plenty of places along the narrow lanes to try them. Another popular site in the area is the Billiken statues, he is a little statue who is meant to represent the God of Happiness. He was originally a wooden American Charm Doll which was a feature of the amusement park. The original which was carved by Florence Pretz in 1908 went missing, but today there is a wooden replica in the tower on the fifth floor. There is also plenty of plastic or wooden replicas outside the restaurants and bars in the district, and you will find plenty of smaller ones for sale in the souvenir shops.
The Billiken is meant to bring good luck and make wishes come true when the soles of his feet are rubbed, that is after a coin donation is made.