Okonomi means "what you like" or "what you want" and yaki means "grilled" or "cook" and that really sums up this tasty dish.
The Okonomiyaki or Japanese pancake is very popular in small on street restaurants, particularly in Osaka and Hiroshima. They are relatively cheap and are easy to make, in fact you can use just about anything including your favorite meats or seafood. These are great cooked on the hotplate of a BBQ.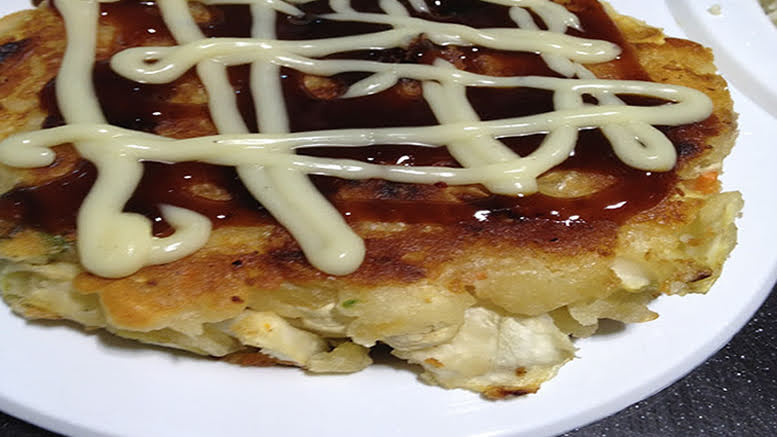 There is no need to be exact on these ingredients. Feel free to change the vegetables and meat adding and subtracting to your tastes. This list of ingredients will make 6 Okonomiyaki about 12 cm round.
Ingredients for pancake
2 large potatoes, grated and drained
2 pack of instant noodles cooked
3 eggs
1 cup of grated vegetables eg: carrots, onions, cabbage and zucchini
1 cup of meats, chicken pork, seafood any combination
The instructions are pretty easy, just mix them all together into a batter and make pancake shapes then put on the BBQ or hot frypan.  Turn when brown and serve with the special sauce mixture.
The sauce
The pancake is layered with two sauces, one being mayonnaise and the other being okonomiyaki sauce, this can be bought at most Asian grocery stores or made by adding a dash of Worcestershire sauce to a sweet Teriyaki sauce and for extra zing and a garnish add a few slices of pink pickled ginger.