Sushi rolls are one of the most familiar of the Japanese dishes found outside Japan. The rolls can be filled with just about any food you can imagine and are very healthy as well as being tasty. Some people enjoy raw or cooked seafood, some cooked, some like chicken, pork or beef, while others prefer vegetables or tofu. The combinations are as varied as your imagination.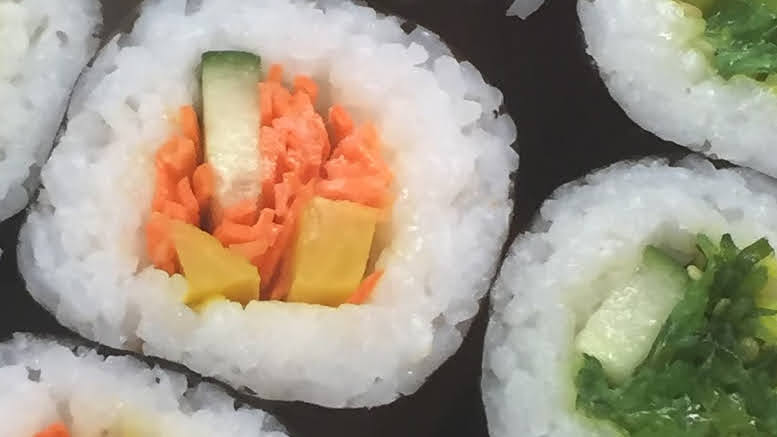 The first thing you need to do is prepare the sushi rice, the hosomaki or Sushi rice can now be found in most supermarkets, it is shorter and fatter than the average rice and clings together well.
Ingredients for sushi rice
500 ml of Sushi Rice washed and strained
600 ml of water
60 ml Rice Vinegar
30 ml Sugar
5 ml Salt
The rice must be cooked slowly, using just the water, steaming is the best option. It should not be stirred and the lid should be firmly in place. Once cooked leave standing for about 15 minutes.
In a small saucepan heat the rice vinegar, sugar and salt, and dissolve the crystals. Then with wooden spatula carefully fold the liquid through the rice mixture being careful not to harm the rice grains pouring a little mixture in at a time.
Place the mixture in a bowl and cover with a tea towel and let cool, this will help dry out the rice. Once cool it should be slightly sticky and chewy.
Sushi Rolls ingredients.
Nori Seaweed sheets
Wasabi or horseradish
Mayonnaise
Choice of meats – eg crab meat, prawn meat, chicken, tuna
Choice of vegetables, eg- celery, avocado, carrot, mushroom, pickled ginger, cucumber
You will also need, some water, a sharp knife and sushi bamboo mat or waxed paper.
Place the nori sheet on a bamboo mat or piece of waxed paper.
Rinse hands with cold water and dry (this helps stop the rice from sticking).
Starting at the bottom make a 80 mm long thin layer of rice then layer your meat or vegetable along 10-15 mm of sheet on top of the rice, add a small amount of wasabi and mayonnaise.
Carefully roll the nori sheet away from you until a large sausage shape roll is produced. Dampen the end of the sheet and stick it firm. Then with a cold wet and sharp knife cut the roll into desired lengths.