Tempura a light and crispy batter that was introduced to the Japanese by the Portuguese. It is very popular on fried seafood and vegetables. This recipe can be easily modified to include seafood like prawns and crab meat or just about anything.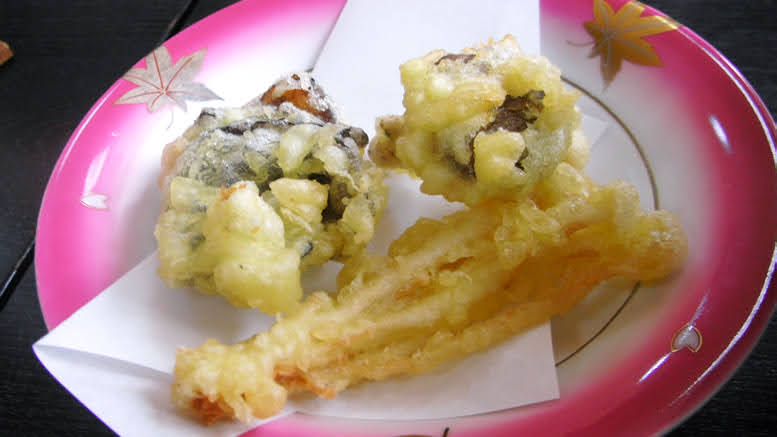 Ingredients:
6 button mushrooms cut in half
6 thin strips of pumpkin
6 strips of celery
6 flowers of broccoli
6 strips of zucchini
6 strips of capsicum
6 snow peas
6 baby corn
Vegetable oil for frying
130 g cornflour
75 g plain flour
4 teaspoons baking powder
1 teaspoon mustard powder
2 teaspoons semolina
1 teaspoon salt
this recipe serves about 4, feel free to modify vegetable list. Cut slices into strips about 1cm wide and deep
Dry sliced vegetables on a paper towel to remove as much moisture as possible from the surface.
In a bowl, sift together cornflour, flour, baking powder, mustard powder, semolina and salt. Beat in 300 to 450ml of chilled water and mix to a smooth thick paste.
Bring vegetable oil to temperature (190 C) in a shallow pan. Ensure there is around 2 cm of oil in the pan so the vegetables will be evenly covered.
Dip vegetables in batter and fry. Only do 2 – 3 at a time to ensure the oil remains hot. Cook for 3 to 4 minutes or until vegetables are cooked,  but not too soft. Drain on a paper towel before serving.
Serve with a dipping sauce, light soy or teriyaki are both good choices.
Note many of the major supermarkets now stock pre-mixed ingredients for batter, which is a suitable alternative.