Sapporo is serviced by an extensive public transport system including JR lines, a subway system, a street car and buses.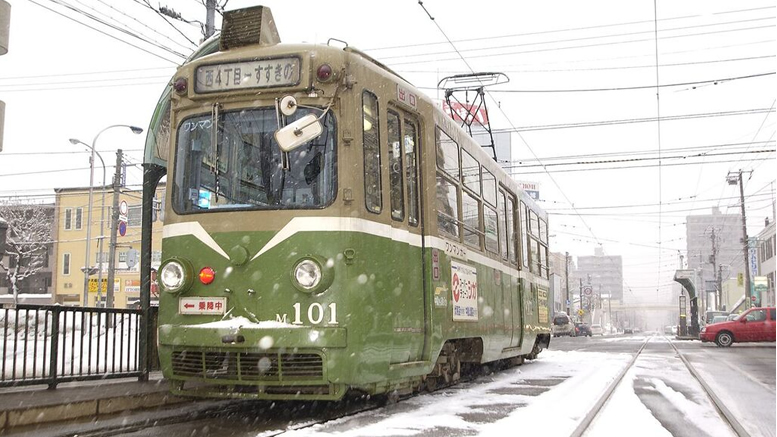 Sapporo's Subway system was built in the early 1970s in time for the Sapporo Winter Olympics and consists of 3 lines. Two of the subway lines known as the Nanboku and Toho lines run north south with the Tozai line running east west across the city. The main interchanges for the Subway lines are at either the central stations of Sapporo or Odori.
Sapporo Station is also the interchange for the JR Hakodate Main Line that services the rest of Hakodate Island as well as the Chitose Line that services the airport, Osaka and Tokyo. The Tozai subway line doesn't go to Sapporo Station but to nearby Odori Station where you can catch the Sapporo Street Car.
The Sapporo Municipal Subway is among the few systems in the world where the rail cars use rubber tires instead of steel wheels and is guided by a central track. Also unique to Sapporo is the fact that where the subway system is not underground the track system is enclosed in a long shed that keeps the system operating even in the heaviest snow blizzard.
The Sapporo Street Car dates back to 1909 and was the main way to get around Sapporo before the subway system was installed. Today there is still around 8 km of street car track running through central Sapporo, making it a great way to see the city. A good trip on the street car is to hop on near Odori Park and head down to the entertainment district of Susukino via Mt. Moiwa, this trip will cost around 170 yen.
There are various one day transport cards available that should make the cost of getting around cheaper if you plan ahead. There a two subway only day passes as well as combination day passes for the subway, bus and tram. Also available is the With You Card, this is a pre-paid ticket that will take the hassle out of continually buying tickets and also provides a discount over normal tickets.