It is hard to describe or categorise the Tokyu Hands department store, other than to say they sell a delightful and sometimes weird variety of fascinating products for the home. The store is part hardware store, part hobby store, part kitchen store, part gift and stationery store and part pet store. The stores are known as a "Creative Life Store" which sort of sums it up, selling the practical and often "Only in Japan" not so practical items.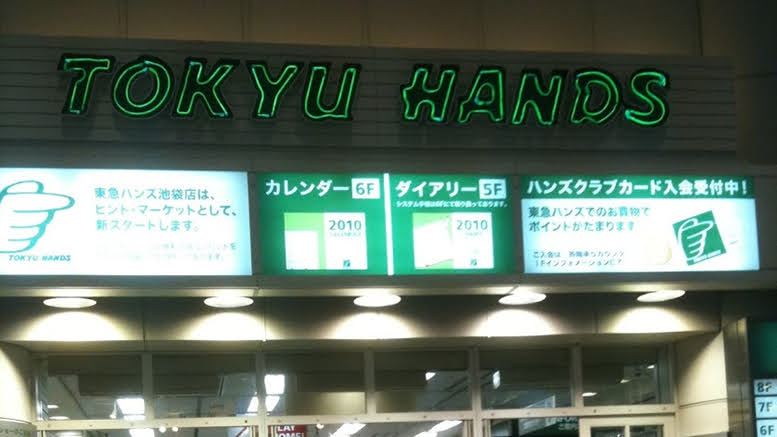 The first store opened in Tokyo's Shibuya back in 1976 as a "do it yourself shop". Today the stores are found in many of the big shopping districts around Japan. Recently, the chain has expanded overseas to Taiwan where there are now nine stores.
The stores are usually multi level, and there are 3 or 4 departments on a floor. You certainly will need plenty of time to explore the extensive eye opening range. The novelty and gadget floors are hugely popular, and some of the kitchen gadgets are mind blowing. There is a gadget for just about everything, from some of the sharpest knives to things like banana covers or motorised seafood scalers.
For people interested in hardware, the tool section is also particularly intriguing with tools for just about anything. You can buy some incredible materials from timber of all types and sizes, a huge assortment of metals in various grades, shapes, sizes and types and you have never seen so many choices for door knobs, hinges and fittings.
Tokyu Hands is the perfect place to buy some amusing souvenirs and gifts for your friends back home. The giftware is sensational, and you can buy just about anything crockery, gadgets, stuffed toys, furnishings, stationery, books, fashion and travel accessories. There is also  a wondrous array of craft and educational toys that you just don't see out of Japan.
People into dress or furniture making will spend hours in the store trying to choose from the massive choice of fabrics, textiles and what would be thousands of choices for buttons.
The Ikebukuro store near the Sunshine City complex has one of the more unusual attractions known as Nekobukuro. Also known as "Cats House" (Neko is Japanese for cat), here dozens of cats roam a room and visitors pay a small fee to pat and enjoy the cat's company. As you would imagine it is immensely popular especially with teenage girls, who spend yen after yen playing with the kittens for hours on end.
Many of the stores have an enormous pet departments where you can buy just about any type of accessory or treat for your animals. There is also a vast array of animals to purchase from the cute and cuddly kittens, puppies and rabbits to the unusual turtles, cockroaches, exotic fish, lizards, hamsters and even salamanders and small prawns.
Any visitor to Tokyu Hands and the 100 Yen shops will soon have their suit cases busting at the sides with some astonishing and often wacky items, which you just won't find at home. Don't miss either of these fantastic stores on a visit to Japan, they are simply sensational shopping and plenty of fun.
Although only in Japanese, the Tokyu Hands website will give you a taste of their huge selection of products. www.tokyu-hands.co.jp