Tokyo is Japan's capital city and a huge metropolis, there are approximately 35 million people living in the greater Tokyo area.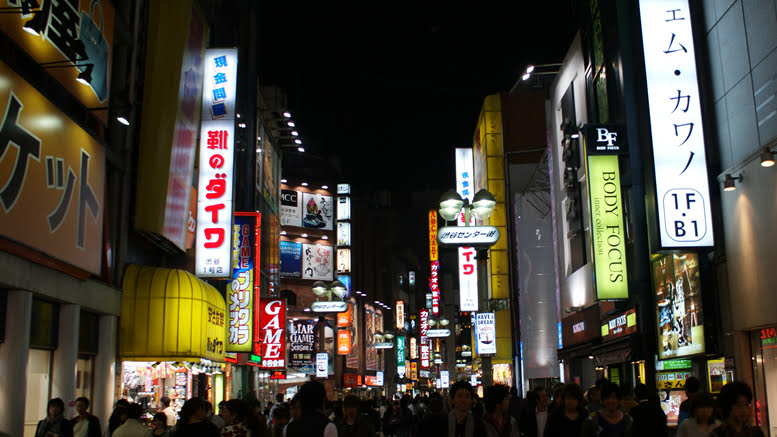 Tokyo is a great city to visit as there is a huge variety of Japanese culture sprawled throughout its many suburbs.
Modern Japan is best seen in the fashion suburb of Ginza or in the trendy youth suburbs around Shibya and Shinjuku, while old Japan can be found right next door in and around the shrines and parks in Shibya, Roppongi and Asakusa. Japan's culture old and new meshes together in Tokyo to create a great travel experience. A perfect example of this is the collection of huts serving yakitori skewers in Shinjuku. Officially known as Shomben Yokocho but often called piss alley, the area is known for some of the most expensive real estate in the world. Shinjuku is home to Tokyo's skyscraper district, but the piss alley huts that look like they are made out of junk fit right in next to the skyscrapers.
Night time is when Tokyo comes alive with the famous neon lit streets, there are hundreds of thousands of bars and restaurants, and you may not find your favourite at ground level. Entertainment venues can extend up several floors of the cities buildings; this kind of explains the need for the huge amount of neon advertising. To get a good feel of Tokyo's vibrant night life try a visit to Ginza, Shibya, Roppongi and the Kabukicho area in Shinjuku. Some of these suburbs at night were said to be the inspiration to many of the futuristic scenes of the movie blade runner.
If you are into technology Tokyo is home to all the world leaders in electronics and car manufacturing with many having displays and showrooms full of their latest gadgets or cars. Akihabara is also known for its huge collections of electronics shops old and new, as well as lots of magna and anime culture.