The Tsukuba Express or TX is a new railway line which opened in late 2005, it connects Akihabara with the high tech city of Tsukaba.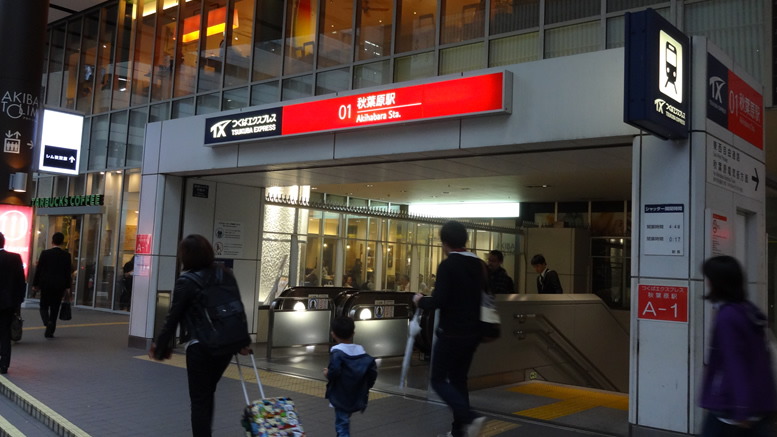 The railway station of the Tsukuba Express at Akihabara has actually given the area a tremendous boost, with quite a few large electronics retailers setting up in the proximity. Some of the camera and computer stores are the biggest in the world, which helps make the area highly competitive on price and gives the shopper an almost too large of a choice.
Akihabara is all things geek, not only home to computers and electronic gizmos, it is also home to the biggest anime centre in Japan. The Tokyo Anime Centre is a popular Akihabara attraction and is within walking distance of the Tsukuba Express station.
The train service runs about 4 times an hour to Tsukuba, which is well worth a visit. Tsukuba was home to Tokyo's World Fair (Expo 85) and has since become a science city hub over the last 20 years. Built as a planned city, Tsukuba is about 40 kilometres from Akihabara. The city is well planned out with more than 60 research institutes. The University of Tsukuba and the Japan Aerospace Exploration Agency (JAXA) all call Tsukuba their home. Jaxa is Japan's version of NASA, and the agency's Tsukuba research centre has free exhibits, guided tours and a gift shop, with plenty of models, books and space food.
For the visitor, there is a wealth of things to see including a full size rocket in the city park, that commemorates Expo 85. Another popular Expo leftover is the Planetarium and Expo centre, which are also well worth a visit.
The Tsukuba Express is also an adventure in itself; this high tech train is an express line with no railway crossings on the entire length. The track also has doors and barriers at the stations, so nothing can fall on the tracks and interfere with the 130 klm/h train. All trains have 6 cars and are controlled pretty much automatically with only one person required to operate the entire vehicle. One thing to note is this train is run by yet another rail company (Metropolitan Intercity Railway Company) and tickets from other companies are not accepted.
JAXA Tsukubu Site (English)