The Asahi Beer Headquarters is one of the most intriguing architectural wonders in Tokyo. It features two main buildings, the biggest building standing one hundred meters tall and resembling a giant beer jug complete with foam shaped white roof. The shorter building that is known as the Super Dry Hall is a black glass building in the shape of a beer glass, with an enormous golden flame shaped object perched on top.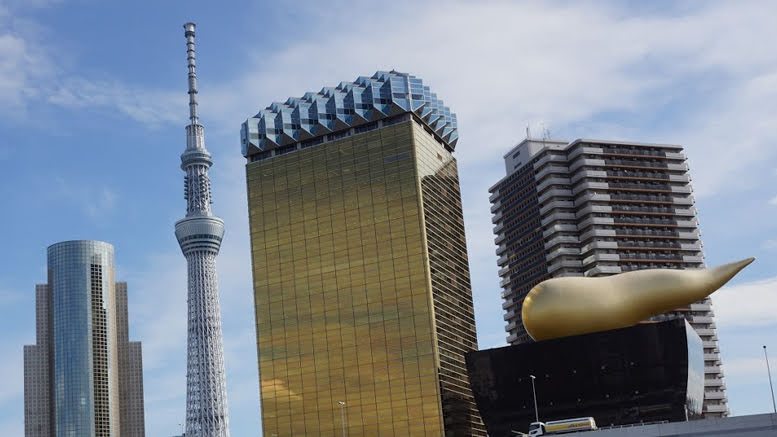 The golden flame object was designed by renowned French designer, Philippe Stark and is known as the "Flamme d'Or" meaning flame of gold in English, but it is affectionately known as the "Golden Turd" or the "Poo Building". Weighing in the vicinity of three hundred tons the object was built by shipbuilders using techniques used to construct submarines.
The complex is built on the banks of the Sumida River and is not far from the Sensoji Temple, and actually built on the site Asahi started brewing beer a century earlier, and of course there is somewhere to sample Asahi's lovely beer.
For those wanting to enjoy a delicious Asahi you can visit the 22nd floor of the Asahi Super Dry Building. Here you will find two of Japan's most popular bars plus a selection of good restaurants. A small annex building at the front of the complex contains a "Super Dry" bar on the ground floor, and an izakaya style restaurant on the 2nd floor known as the "Asahi craftsmanship Brewery" where you can try some limited run Asahi beers.
Asahi is one of Japan's biggest beverage companies producing beer along with Shochu, Japanese fermented and distilled liquor. Asahi also produces whisky, wine and other spirits as well as distributing many of the well known international brands of liquor. The company also deals in soft drinks, food and pharmaceuticals.
To get to the Asahi Beer Headquarters, take the Ginza Subway Line to the Asakusa Station (station G-19) or the Asakusa Line (station A-18). For JR users hop off at Ueno and catch the Ginza Subway a few stations to Asakusa (station G-18).
Related Articles