Also known as Asakusa Kannon Temple, Sensoji is a massive Buddhist temple located in Asakusa, and is one of Tokyo's most popular tourist attractions. The Temple dates back to 645, making it also Tokyo's oldest temple. The temple building was actually rebuilt in 1958, after burning down in the Tokyo bombing of 1945.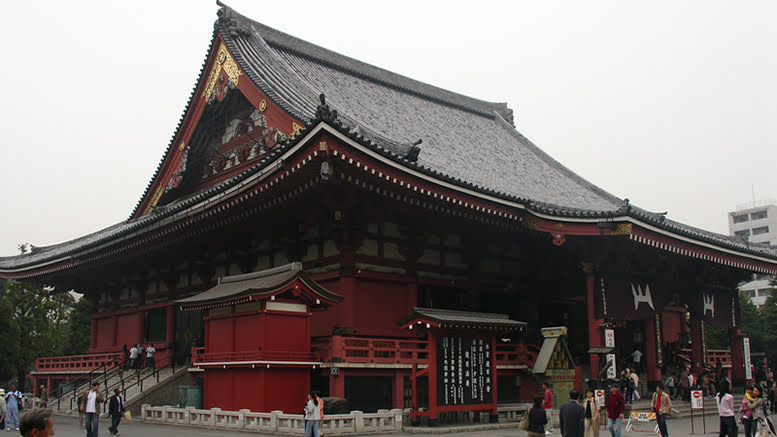 So the story goes, way back in 628, two fisherman brothers on the Sumida River netted a golden statue of Kannon, who was the goddess of mercy. Consequently, Sensoji was built there for the goddess, and she still stands in the temple today, but sadly is never shown to the public. Thousands of pilgrims flock to the shrine every day in the hope of seeking a favour from the goddess by burning incense.
At the entrance to the temple, is the kaminari-mon or "Thunder Gate". This monumental Buddhist structure with a large paper lantern is a popular photo opportunity. The lantern is painted in red-and-black tones suggesting thunderclouds and lightning. Statues of the gods of thunder and wind sit on either side of the gate.
The approach to the temple features a colourful pedestrian lane called Nakamise Dori. The street is lined with shops and many souvenir stalls that are immensely popular with the tourist. The stalls sell all the typical Japanese souvenirs such as yukata and folding fans, kimono and other robes, Buddhist scrolls, toys, t-shirts, cell-phone trinkets and so on. The shopping street has been operating along this strip for centuries.
Inside the large Hozomon main gate stands the temple's main building and the astounding five storey pagoda. Built in 1973 the Pagoda is devoted to Kannon Bosatsu. The area has a distinctive Japanese style garden and behind the main temple building is the shinto Asakusa Shrine.
The shrine is home to several festivals throughout the year, including Tokyo's largest Matsuri Shinto Festival. This festival takes place over 3 to 4 days in late spring, many local streets are closed to traffic to cater for the huge amount of visitors during the festival.
The Sensoji Temple is open 24 hours a day and is easily reached by rail. You can take the Ginza or Asakusa subway line to the Asakusa Station (G19) (A18) and from there the temple entrance is only a few minutes' walk west. If heading to the area from the JR Yamanote line you will need to swap to the Asakusa Metro line at Shimbashi (A10), or the Ginza Metro Line at Shimbashi (G08), Kanda (G13) or Ueno (G17).
Official Website
http://www.senso-ji.jp/about/index_e.html
Nearby Hotel
Blue Wave Inn Asakusa